Yonex is proud to announce the launch of a new badminton racquet the "ASTROX 66" available from February. Specifically designed for female players it assists with easier smash returns and defensive lifts.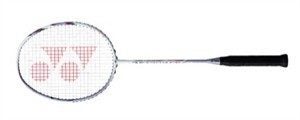 The ASTROX series features unique weight distribution characteristics and shaft materials which provide steep powerful smashes and smooth transition between shots. In addition the "ASTROX 66" satisfies the demands of many female recreational players by "returning a serve deeper" and "making lifts higher and deeper".
New Frame Material "TOUGH G-FIBER": Maximize repulsion power
"TOUGH G-FIBER" is a combination of Carbon Nanotubes and Glass Fiber which has approximately 3 times the elasticity of conventional graphite. This new material is utilized in the frame of the "ASTROX 66" to enhance flexibility and maximize repulsion power providing a soft feel and increased flight distances on the shuttle. This racquet delivers the shuttle to the back of the court to help create an advantage.
| | | | |
| --- | --- | --- | --- |
| | Flexibility | Repulsion | Impact absorption |
| TOUGH G FIBER | 98 | 108 | 135 |
| Glass Fiber | 100 | 100 | 100 |


Rotational Generator System

By precisely distributing the weight throughout the entire racquet it prevents a loss of follow-through power and allows quick fire attacks by creating a smooth transition into the next shot.




Namd

Ultilizing high quality Namd graphite in the shaft, produces more flex with a faster snapback unleashing dramatic power.


※ Namd is a new graphite material developed by Nitta Co., Ltd