Srikanth Kidambi (VOLTRIC Z-FORCE Ⅱ, BG66UM, POWER CUSHION 65 Z WIDE) is on a roll. The finals of the YONEX French Open Super Series (Paris) were held on October 29th, becoming the stage on which Srikanth (India) would go on to claim his second consecutive singles championship title in two weeks. Female duo Greysia Polii(ARCSABER 11, BG80, POWER CUSHION 03) and Apriyani Rahayu (DUORA10, BG80, POWER CUSHION 65 Z) would secure their first Super Series doubles title.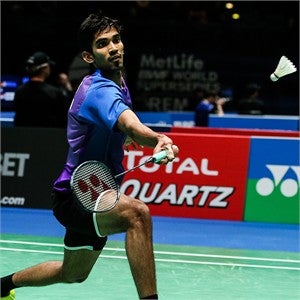 After championing the
Denmark Open
just one-week prior, Srikanth Kidambi's path to the French title was paved with effortless wins, including one over the tournament's fourth seed from China. This tournament win was his fourth of the year, placing him in a prime position to exceed the third-place international ranking he achieved in 2015, which was his personal best.
Women's doubles winners Greysia Polii and Apriyani Rahayu began their run as a team in May of this year, Polii lending her depth of experience to the 19-year-old Rahayu. The pair knocked out the number two seed team from China in the semifinals 21-5, 21-10, demonstrating the result of their consistent improvement over the year.
Additionally, Akane Yamaguchi advanced to women's singles finals for the second time in two weeks and is heading into the Super Series Finals (December 12-17, Dubai) with significant momentum.
In attendance was Team Yonex member
Pierre-Hugues Herbert
(France), ranked number six in the world in men's doubles tennis. While cheering on compatriots including Thomas Rouxel, Herbert himself also gained some inspiration ahead of the Nitto ATP Finals (November 12-19, London).
View the tournament's 
official site
.
Follow Yonex on social media and stay tuned for
The Legends' Vision
to be held next month in France.