Yonex's exclusive Australian Open event, featuring 14 of tennis' biggest names, was held January 13th for a packed venue of close to 200 tennis fanatics and media. Big names such as Stan Wawrinka, Caroline Garcia, and others were in attendance for what was called "An Evening Down Under."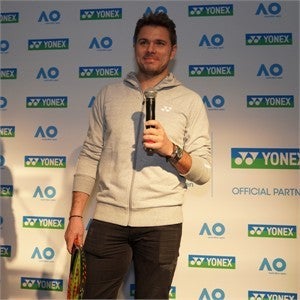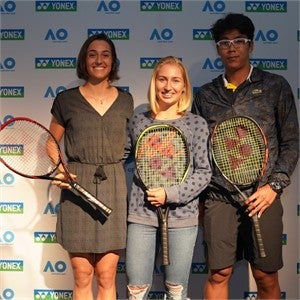 The event marked the official launch of the new EZONE Blue racquet. Home-crowd favorite Nick Kyrgios has already had a big success with the new racquet, coming off a big win at the Brisbane International last week. "Playing matches in Australia in front of the home crowd is always special for me. I had some great wins with the new EZONE last week in Brisbane and hope to keep that momentum going into the Australian Open.
All players were excited to kick off the first Grand Slam of the year in Melbourne. Stan Wawrinka is "happy to be back on court" and will look to "focus each match one at a time" as he makes his return from injury. France's Caroline Garcia looks forward to the new season with new challenges. About her hopes for 2018, "I finished the season strong with two amazing wins in China and I hope to take my performance to the next level" commented Garcia.
And once again, the Yonex Stringing Team is hard at work to provide the players quality and precision stringing for the third year in a row. With the main draw starting tomorrow, the team will look to provide more than last year's total of 5,460 racquets restrings and will attempt to match their record of 544 racquets restrings in one day!