Standing tall at 180 cm with serve speeds of up to 200 km, 
Naomi Osaka
cuts a striking figure. "These are my weapons on the court," states the Japanese-American 18-year-old, who is poised as the next big hope to come out of Japan.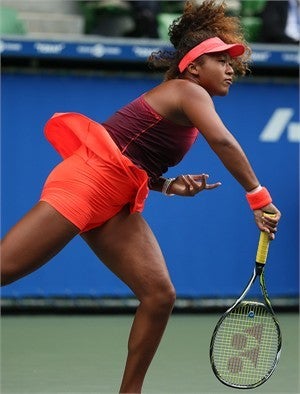 Naomi made a huge splash at the recent WTA Rising Star Invitational held on October 25th in Singapore. Up against higher-ranked French World No. 35 Caroline Garcia in the tournament's final match, Naomi brilliantly engineered a come-back victory to win the title. The WTA Rising Star Invitational* is an exhibition tournament held during the BNP Paribas WTA Finals where four rising stars are voted on by fans for a chance to compete. Winning at the tournament results wide global recognition of the player's skills and popularity.
The turning point in Naomi's career came as she was embarking upon her second year on the pro circuit in July 2014. The tournament was the Bank of The West Classic—the rising star's WTA debut. She would turn heads at the tournament upon earning an outstanding win over 2011 US Open champion Samantha Stosur. At the young age of 16 and practically unknown at the time, the then-World No. 406 made a huge impact upon the global tennis community.
Currently competing with the
EZONE DR 98
, Naomi had this to say about her racquet, "It has power, and I can hit especially harder on my serves." She continued, expressing immense praise for her
POLYTOUR PRO 125
string, "The string effectively grips the ball, giving me solid control even on fast swings."
Her goals? "For starters, I want to break into the main draw of the Australian Open in January. Then, I want to gain experience across tournaments, and eventually reach World No. 1," declared the 18 year old, with eyes fixed firmly on the future.
How will Naomi's future achievements affect the world of tennis? Be sure to keep your eyes on her to find out.
*
Matches played at maximum 3 sets, 4 games per set.