Nick Kyrgios
(
EZONE DR 98
,
POLYTOUR PRO 120
) won his very first ATP World Tour title on February 21st at the Open 13 Provence tournament in Marseille, France. Needless to say, the global response to Nick's inaugural title has been fervent, with publications from the rising star's native country of Australia leading the pack.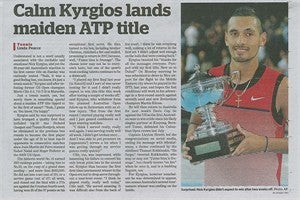 Leading local papers
The Age
and
The Australian
both ran pieces on Nick's big achievement, the two newspapers praising Nick's unbreakable service game and his run to the trophy without dropping a set.
The Age
offered points of view from Nick's opponent and people close to him. "I think he played really, really well today," said the article, quoting Marin Cilic, who faced Nick in the final. "He served amazing. It was difficult from the back of the court," continued the Croat. The article also covered the reaction on social media, mentioning "[Davis Cup] captain
Lleyton Hewitt
led the congratulations on social media, ending his message with #firstofmany."
The Australian
offered a focus on the rising star's future prospects, labeling the Canberra native as a "legitimate Wimbledon contender." The article would continue, offering praise for Nick's unique game, "His powerhouse serving was complemented by a new-look approach to service returns that would not be possible without the freakish reflexes and uncomplicated technique that the majority of his metronomic rivals cannot comprehend." The article went on to describe Nick's moves as possessing "sharpness" and being "electrifying." Continuing to predict future developments in the rising star's career, the article stated, "He should be gunning for a place in the season-ending ATP World Tour Finals," suggesting an eventual climb into the Top 10 in coming years.
Other sources that covered his victory include America's
USA Today
here
, and France's
Europe 1 Sports
here
.
As Nick continues to produce more impressive results, there is no doubt the global spotlight upon him will become brighter and brighter. Starting on March 4th, he will play on Australia's Davis Cup team—lead by Lleyton Hewitt—against the USA.