The Korean Open Superseries came to a close on September 20th in Seoul, with 2014 Asian Games champions 
Greysia Polii
(
NANORAY 900
, SHB-75EX)/
Nitya Krishinda Maheswari
(
NANORAY GlanZ
, 
SHBF1NMX
) winning their first Superseries title at the tournament.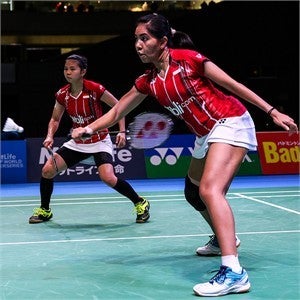 The Indonesian duo soared through the tournament, securing all but one of their victories in straight games. The two triumphed over higher-seeded Chinese rivals: No. 4 seeds Wang Xiaoli/Yu Yang in the quarterfinal and No. 2 seeds Luo Ying/Luo Yu in the semifinal. The semifinal match was the only one to run for three games, with both duos splitting the first two games at close margins. However, the Indonesian pair managed to outplay their Chinese rivals in the final game, not once being led, closing the match at 21-18 17-21 21-13. In comparison to the nearly 90 minute semifinal, the final felt rather short at 48 minutes. The duo triumphed over Korean pair Chang Ye Na and Lee So Hee at 15-21 18-21.
Chou Tien Chen
(VOLTRIC Z-FORCE,
SHB02LTD
) and
Kento Momota 
(
VOLTRIC Z-FORCE II
, 
SHB02LTD
) placed as semifinalists in men's singles, as well as
Akane Yamaguchi
(
VOLTRIC 70 E-tune
) in women's singles. Men's doubles saw
Mathias Boe
 (
ARCSABER 11
, SHBSC6iEX)/
Carsten Mogensen
 (
ARCSABER 11
, 
SHB87LTD
) also place as semifinalists, along with
C
Chris Adcock
 (
VOLTRIC Z-FORCE Ⅱ
, 
SHB-02MX
)/
Gabrielle Adcock
(
VOLTRIC Z-FORCE Ⅱ
, 
SHB-02LX
) in mixed doubles.