Yonex are proud to announce that the next Legends' Vision World Tour event will be held on Sunday, September 18
th
 2016 in Tokyo, Japan. Tickets are set to go on sale on July 30
th
.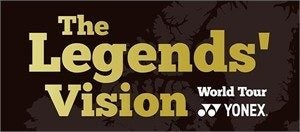 Following on from the success of the 2015 World Tour, The Legends' Vision will finally touch down in Yonex's home nation of Japan. The Yonex Home Office—where the Legends' Vision initiative was first conceived—has the honour of hosting the event in Tokyo.
The four Legends—Peter Gade, Taufik Hidayat, Lee Chong Wei and Lin Dan—all share a common goal: to increase awareness and participation in badminton. Supported by Yonex, they have hosted a number of thrilling and inspirational events that are targeted at inspiring young players from all around the world.
The event is set to take place ahead of the nation's biggest badminton tournament—YONEX OPEN JAPAN. In what is scheduled to be a star-studded and well-attended event, the Legends will take part in thrilling exhibition matches against one another. Additionally, an array of invited guests will provide engaging demonstrations and clinics aimed at inspiring the younger generation to take up the sport of badminton.
The Legends' Vision, supported by Yonex, will continue to further enrich the world through sport, providing happier and healthier lifestyles in today's aspiring badminton stars.
For further ticket information, updates and more, check out the official Legends' Vision Site here:
http://legends.yonex.com/
The Legends' Vision Tokyo
Date: 
September 18
th
, 2016




Discussion Panel

(Press Only)

Venue

Hotel New Otani Tokyo

4-1 Kioi-cho, Chiyoda-ku, Tokyo 102-8578, Japan

The Arcade Floor, Rei Hall

Time

Admission: 10:30am

Start: 11:00am


Exhibition Matches, Clinic

(Open To Public, Ticketed)

Venue

Tokyo Metropolitan Gymnasium

1-17-1 Sendagaya, Shibuya-ku, Tokyo 151-0051, Japan

Main Arena

Time

Admission: 1:30pm

Start: 2:00pm