Lee Chong Wei
 (
DUORA 10
, 
SHB02LTD
) continues to prove that he is still a force to be reckoned with on the court, earning his second Superseries title and first Premier title for the year at the China Open this past Sunday, November 15th. This victory also marks his 40th overall career Superseries title.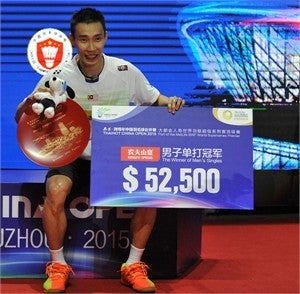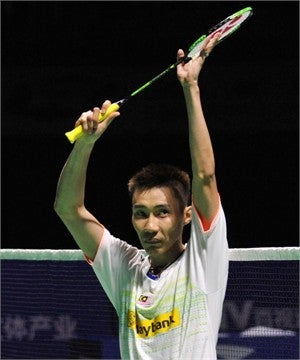 The Malaysian national hero by no means had a smooth ride to the top, earning hard-earned full-game victories against fellow Team YONEX competitors
Chou Tien Chen
(VOLTRIC Z-FORCE,
SHB02LTD
), 
Jan O. Jorgensen
 (
VOLTRIC 80 E-tune
, SHBSC6iEX), and rival
Lin Dan
 (
VOLTRIC Z-FORCE Ⅱ LD
, 
SHBSC6LDEX
).
After his tenacious run through to the final, Chong Wei went up against Chen Long. Despite the series of tough matches leading up to the final, Chong Wei dominated against the Chinese who currently stands at World No. 1. The Malaysian displayed no trouble whatsoever, expertly deflecting Long's attacks with keen reflexes and decisively landing points with his distinct brand of pin-point, focused power. Game 1 went to Chong Wei at 21-15 when the Malaysian hit a blazing smash into the back corner of the court. Chong Wei began to load more pressure onto Long in the final, forcing the Chinese into a great number of errors. The title went to Chong Wei after a miss-calculated shot on the part of Chen Long fell out of bounds. The final score came to 21-15 21-11.
Christinna Pedersen
(
NANORAY 800
, 
SHB-02LX
) and Joachim Fischer Nielsen placed as finalists in mixed doubles, advancing to the finals without dropping a single game, and earning several wins over strong local opponents. The pair faced No. 1 seeds Zhang Nan and Zhao Yunlei in the final, taking the match to three games, with only a 2-point difference between the pairs in the final game. 
Saina Nehwal
 (
NANORAY 900
,
SHB02LTD
) also placed as finalist, dominating over local Wang Yihan in straight games at 21-13 21-18 in the semifinal to advance to the final.
The ranks of Team YONEX now have their sights set on the Yonex-Sunrise Hong Kong Open Superseries commencing this week in the lead up to the Dubai World Superseries Finals on December 9th.
2015 China Open Results
Men's Singles Final
Lee Chong Wei
 (
DUORA 10
, 
SHB02LTD
)(MAS) def.  [1] Chen Long (CHN) 21-15 21-11
Women's Singles Final
[6] Li Xuerui (CHN) def. [1]
Saina Nehwal
 (
NANORAY 900
,
SHB02LTD
)(IND) 21-12 21-15
Women's Doubles Final
Tang Yuanting/Yu Yang (CHN) def. [1]  
Ayaka Takahashi
 (
VOLTRIC 80 E-tune
)/Misaki Matsutomo (JPN)  18-21 21-13 21-12
Mixed Doubles Final
[1] Zhang Nan/Zhao Yunlei (CHN) def. [5]
Christinna Pedersen
(
NANORAY 800
, 
SHB-02LX
)/Joachim Fischer Nielsen  (DEN) 21-19 17-21 21-19
*Pictures of Christinna and Saina taken at 2015 Yonex French Open