Martina Hingis
(
EZONE Ai 100
,
POLYTOUR PRO 125
,
SHT-PROL
) and Sania Mirza closed out an impressive season, claiming this year's WTA Finals doubles title.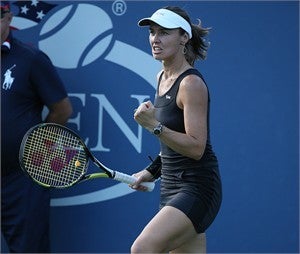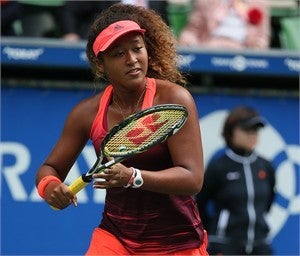 The semifinal match put them up against Taiwanese sisters Chan Hao-Ching and Chan Yung-Jan, where they reeled off 11 games up from a two-game deficit on their way to a straight-set 6-4, 6-2 win. Prior to that semifinal match, the two were congratulated for achieving the year-end ranking of World No. 1 in doubles.
Their final match against Garbine Muguruza and Carla Suarez Navarro saw the Swiss-Indo pair sprint immediately to a commanding 6-0 lead. Breaking their opponents five times and securing four aces en route, the duo secured a confident 6-0, 6-3 victory in just over an hour.
This victory extends the pair's winning streak to 22 matches, throughout which they have only dropped two sets. "It obviously feels great holding up another trophy, including titles at Grand Slams. I'm really enjoying every second of it," commented the World No. 1 upon her victory, "I could not have done it without this Yonex racquet. This racquet has helped me throughout my career, and these last ten months have been an incredible journey for me," continued the Swiss, praising the YONEX racquet that has backed her up during her incredible year.
At the second WTA Rising Stars Invitational—a competition where fans vote for their favorite up-and-coming players to compete against each one other—
Naomi Osaka
(
EZONE DR 98
,
POLYTOUR PRO 125
) came out victorious. The 18 year old stunned Caroline Garcia, securing a close and pivotal second set from a set down. The Japanese would proceed to confidently take the third set to secure the 2015 title at 3-5, 5-4, 4-1.
Tournament Results
WTA Finals Championship
Women's Doubles Final
[1]
Martina Hingis
(
EZONE Ai 100
,
POLYTOUR PRO 125
,
SHT-PROL
)(SUI)/Sania Mirza (IND) def. Garbine Muguruza (ESP)/Carla Suarez Navarro (ESP) 6-0, 6-3
WTA Rising Stars Invitational Final
Naomi Osaka
(
EZONE DR 98
,
POLYTOUR PRO 125
)(JPN) def. Caroline Garcia (FRA) 3-5, 5-4, 4-1