On October 16th,
Martina Hingis
(
EZONE Ai 100
,
POLYTOUR PRO 125
,
SHT-PROL
) appeared in front of a crowd of enthusiastic fans for an autograph session at the Tianjin Open in China.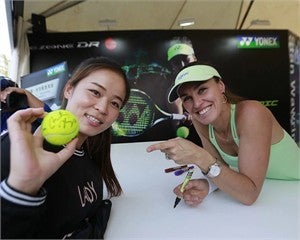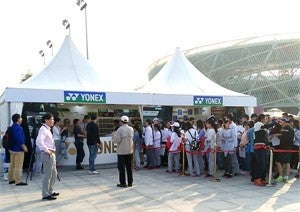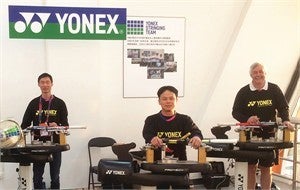 A long line of ecstatic fans gathered in front of the YONEX booth well before the scheduled start time for a chance to get a signature from the renowned tennis star. The event got underway at 3:30pm, with the US Open women's and mixed doubles champ happily signing autographs for the leagues of fans, and also posing for photos.
The Yonex Stringing Team: Official Stringer for the Tianjin Open
YONEX acted as the official stringer for this year's Tianjin Open. With their high level of skill and expert command over YONEX's premium made-in-Japan stringing machines, the stringers provided their trademark high level of service for the competitors. With a great attention to detail and keen eye for quality, The YONEX Stringing Team continues to provide top-class service around the globe.
Visit the official YONEX Stringing Team website
here
.