The Yonex Stringing Team remains busy in the final days of the Australian Open. Let's meet one of the members that hails from Yonex's native Japan: Hiroyasu Tamagawa.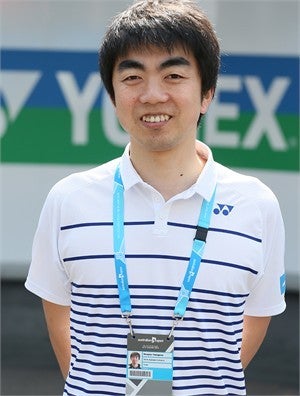 "I never thought I'd be stringing at a Grand Slam," exclaims Hiroyasu, who owns a tennis shop in the Japanese country side. He's certainly a long way from home.
This year's Australian Open marks his first time stringing at a Grand Slam. "I've never strung this many racquets before in my life, especially considering the junior matches and wheelchair matches. Our team has strung 600 racquets in one day at this tournament! Can you believe that?"
Hiroyasu has a lot on his plate—players who want the same amount of racquets strung at the same time of day and at the same tension. Sometimes these players bring
a lot
of racquets. Then there are also issues of climate, and how that affects the process.
"It's amazing to be surrounded by so many nationalities in this team! Everyone is extremely skilled, friendly, and can handle a lot of racquets. Everyone has vast experience, and helps each other a lot," comments the Japanese stringer on the Yonex Stringing Team.
Thanks to Hiroyasu's hard work, players at the Australian Open can play confidently knowing they have his dedication backing them up.
Find more information about the Yonex Stringing Team at its official
website
.