Michael Mmoh
(
VCORE SV 98
) earned his US Open main draw wild-card entry as the winner of the USTA Boys' National Championships in Kalamazoo, Michigan. The 18 year-old from Bradenton, Florida, beat No. 7 seed Vasil Kirkov in decisive straight-sets 6-1, 6-2, 6-3. He dominated the game with 22 winners and only 4 unforced errors through the first 2 sets.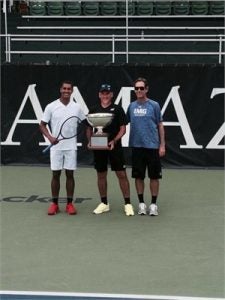 This major win comes within 3 weeks of switching to Yonex's new
VCORE SV racquet
, which is his first Nationals victory "at the Zoo." Commenting on the VCORE SV after his championship match, Michael says, "the playability and the feeling of [the VCORE SV] is unmatched compared to any other racquet I've tried."
The new VCORE SV racquet will become available through retailers in early September.
The National Championships is one of the most important tournaments for boys in the 16 and 18 year-old divisions. Many notable players have participated, including Rod Laver, Arthur Ashe, Jimmy Connors, John McEnroe, Andre Agassi, Pete Sampras, and more.
As the No. 1 seed at the Junior Nationals, Michael is a promising athlete with 4 ITF Futures Tournament wins under his belt. His current ATP ranking is 386 (career high of 317). Michael is looking forward to playing aggressive tennis at the US Open, and be sure to learn more about his game and goals for the remainder of the 2016 season in the video below.
Save
Save