Award season continues, with Yonex
N1-MB Forged Irons
receiving the Hot List Japan Gold Medal on Golf Digest Online. Produced in Yonex's domestic Japanese factory, the N1-MB offers exceptional shot control and consistent spin.
EZONE XPG Fairway Woods
received the American Golf Digest Hot List silver medal
earlier this year
.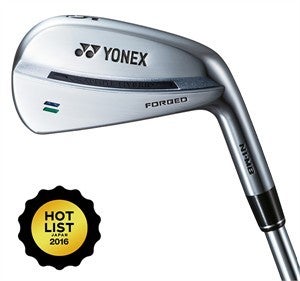 Golf Digest Online's Hot List Japan evaluates golf clubs sold in Japan, tested by a panel of 35 pros and amateurs. Testing requirements and methods are determined by Golf Digest Online judges, with places on the list determined by a point system. Gold and silver medals are awarded to various clubs in each of the following categories: drivers, fairway woods, hybrids, irons, wedges and putters. The N1-MB was the only muscleback for advanced players to receive a Gold in the iron category.
Testers had very positive feedback for the N1-MB. "For a muscleback it delivers great distance, and cuts down on miss-hits. Contrary to its appearance, it has the forgiveness of a cavity iron. If you can handle it, these irons hit very well," commented one tester.
"This is a very cool iron. Despite being made for advanced players, it's quite easy to use. For a muscleback, it's very good at picking up the ball. It has something of an unconventional feeling, but its softness is very good," mentioned another.