Australian on-court showman 
Nick Kyrgios
(
EZONE DR 98
,
POLYTOUR PRO 120
) stands at No. 30* in the world at just 20 years old. With a ferocious forehand, breakneck serve, and dynamic plays that thrill audiences, the young player has seen a large emergence of fans.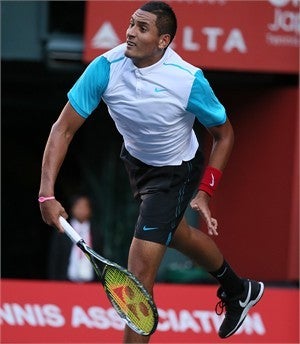 The fledging tennis player goes out of his way to make each and every one of his matches one to remember. Flashback to October 14th, Round 2 of the 2015 Shanghai Rolex Masters: Nick Kyrgios vs. Kei Nishikori. The match is in its second set on Nick's serve with Nishikori leading 5-4. The air is tense, with Nishikori on set point at 40-30. It is at this pivotal moment that Nick faults on his first serve. Second serve: Conventional logic would dictate one put spin on the ball, making it difficult to return. Of course, Nishikori was prepared to return based on this logic. However, it is at this juncture that Nick does the unpredictable: With all his might, he launches off an explosive serve straight into the opposing court.
Unpredictable. Audacious. These words characterize the impression Nick leaves with his dynamic on-court showmanship. Piercing winners from the back of the court, out-of-nowhere drop shots. While these things may be interpreted as a performance, Nick insists, "These are all tactics." It has been said that his huge second serve against Nishikori was a calculated move to put pressure on the Japanese, a player who excels on his return game. "You can't hit a second serve like that unless you trust 100% in your abilities. Of course, that goes for trust in your racquet and string as well."
Nick is currently competing with the new
EZONE DR
. At the recent Rakuten Japan Open, the electrifying Canberra native hit a blazing serve of over 220 km/h, dazzling every member of the audience. "The racquet puts big spin on my first serve, and because of this I can trust the racquet to deliver a second serve that lets me put the pressure on when I need it." With this new weapon at his disposal, the young Nick Kyrgios continues his charge to the top.
*ATP ranking current as of November 16th, 2015