ATP World Tour #NextGen star 
Nick Kyrgios
(
EZONE DR 98
,
POLYTOUR PRO 120
) triumphed in a tight final match against David Goffin to win the third and biggest title of his career at the Rakuten Japan Open on October 9th.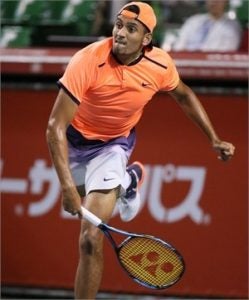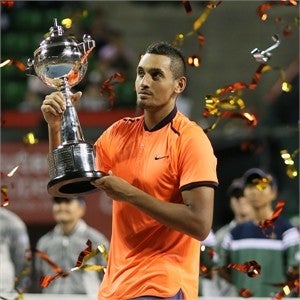 The huge-serving Australian once again commanded the court with his stunning power. Armed with his newly-colored blue
EZONE DR
, Nick's serves were clocking in at blinding speeds of over 210 km/h. The champ launched 25 explosive aces, and saved 11 of 12 break points faced. The match also had pivotal moments when Nick would power through two 0/40 deficits.
Nick would seize the match from a set down, gradually taking control using his heavy serves, as well as his keen returns. He sealed the match with a resounding ace down the center line, winning with a final score of 4-6, 6-3, 7-5.
"This racquet gives me the kind of control and power I need. I can literally do anything with this racquet!" commented Nick on the EZONE DR after his huge win.
Nick has now reached a career high of World No. 14 after this third monumental triumph. With the explosive power of the EZONE DR at his side, we can expect him to rise even higher.
Rakuten Japan Open 2016 Tournament Results
Men's Singles (Final)
[6]
Nick Kyrgios
(
EZONE DR 98
,
POLYTOUR PRO 120
)(AUS) def. David Goffin (BEL) 4-6, 6-3, 7-5