The dynamic French duo of
Pierre-Hugues Herbert
 (
VCORE Duel G 97
,
POLYTOUR FIRE 125
) and Nicolas Mahut booked their fourth title of the season by defending their Aegon Championships crown on June 19th.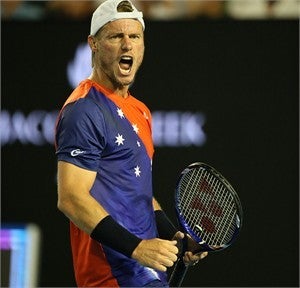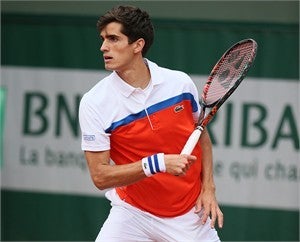 Pierre-Hugues—Great on Grass
The No. 1 seeds dominated on the Queen's Club grass courts, dropping only one set en route to their second straight victory at the tournament. Pierre-Hugues and Mahut would find themselves against qualifiers Chris Guccione and Andre Sa in the final. The pair was resilient in the face of their opponents' serves, breaking them time and time again to power their way to a 6-3, 7-6(5) win.
Pierre-Hugues has been impressing on hard, clay, and now grass courts with his
VCORE Duel G
. The Frenchman has won titles at the Indian Wells, Miami and Monte Carlo ATP World Tour Masters tournaments with the ball-crushing racquet. Everything about the Duel G is designed to power up your game, with a new system on the grommets that lock strings in place to put more power and spin on the ball. The Duel G shaft is also highly flexible, resulting in explosive repulsion on the ball upon impact.
With the Duel G by his side, Pierre-Hugues and his partner have their gazes fixed on this year's Wimbledon championships.
Take a look at the
VCORE Duel  G
video in the link below.
Rusty Reappears in Doubles
Yonex tennis Legend
Lleyton "Rusty" Hewitt
will be making his way back on the tour at this year's Wimbledon championships in doubles. The once World No. 1 will take to the court using his commemorative
VCORE Tour 97
decorated in the design of the Australian national flag. Lleyton put the cap on his singles career at this year's Australian Open, his run at the tournament ending with an emotional on-court tribute.
Aegon Championships 2016 Tournament Results
Men's Doubles (Final)
[1]
Pierre-Hugues Herbert
 (
VCORE Duel G 97
,
POLYTOUR FIRE 125
)(FRA)/Nicolas Mahut (FRA) def. Chris Guccione (AUS)/Andre Sa (BRA) 6-3, 7-6(5)
Photo of Pierre-Hugues taken at Roland Garros 2016
Photo of Lleyton taken at the 2016 Australian Open
Save