Tennis Magazine, the No. 1 tennis publication in the world*, has awarded the
POWER CUSHION ECLIPSION
with the Editor's Choice for Best Stability in their 2016 Shoe Guide. This award comes hot off the heels of the ECLIPSION receiving the gold medal in French magazine
Tennis Addict
. The shoe has received high accolades for its exceptional cushioning and shock absorbance provided by the POWER CUSHION. The shoe's extraordinary performance has also earned the trust of top players, such as World No. 4
Stan Wawrinka
, who talks about the shoe
here
.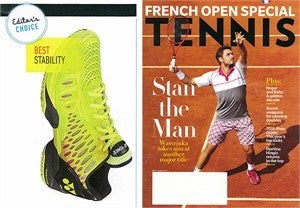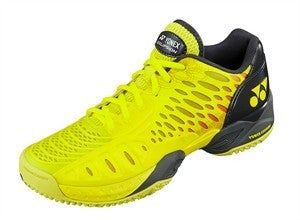 The Tennis Magazine Shoe Guide looks at 13 new shoes from a number of different manufactures and puts them through extensive performance tests. The tests are carried out by several players of various physical builds, skill level and play style on varying surfaces to get a well-rounded picture of each shoe's performance. Along with Best Stability, other awards included Best Technology, Best Lightweight Shoe and Best New Line.
Impressions opened with praise for the POWER CUSHION, "Its three-layer cushioning system provides superior padding on harsh impact and gave noticeable spring into the next step." The review continued, praising the shoe's Toe Assist Shape, "Yonex created a new toe-support design by adding additional room in the forefoot, relying on the foot's natural movement for stability." The shoe was also lauded for its combo of the POWER CUSHION and DURABLE SKIN which locks players into the shoe even during harsh movements, and its versatility across varying surfaces was also praised.
Yonex gear has been a hit in Tennis Magazine, which recently awarded the
VCORE Duel G 97
with Editor's Choice for
Best Heavy Hitter
.
*3.6 Million Copies Published Annually