It is my great pleasure to wish sports enthusiasts across the world a Happy New Year.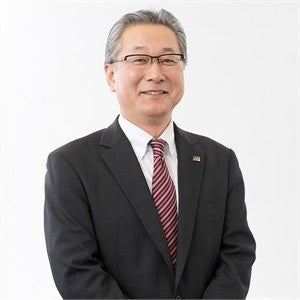 2015 was rich with fine achievements from YONEX players. In badminton, "The King of Badminton" Lin Dan who has signed with YONEX in January won the YONEX Open Japan. Lee Chong Wei made three successive wins in BWF Superseries. Carolina Marin was crowned at the BWF World Championships for a second consecutive year. In tennis, Stan Wawrinka became the French Open champion. Martina Hingis was crowned five Grand Slam titles. YONEX players showed excellent performance in many competitions.
Furthermore, YONEX hosted Legends' Vision World Tour together with legendary badminton players. The aim of The Legends' Vision is to inspire the younger generation and to encourage participation in the sport of badminton by increasing the awareness and popularity of the sport across the globe.
In our business, we established YONEX SPORTS (CHINA) CO., LTD. in China where it is the largest badminton market. And in order to meet the rising global demand for our products, we started operating new factories in Tokyo and Taiwan. We also plan to build a new factory in Niigata to increase our production capacity.
Since I was appointed as the president, my aim has always remained the same. Based on the corporate philosophy of "Contributing to the world through innovative technology and the highest quality products," we pursue the "highest quality" and place great products into the hands of consumers. All of us at YONEX need to think thoroughly, express own opinions, put into practice and seek advanced manufacturing. I believe our passion create the "best products."
As we enter 2016, YONEX stringing team will provide stringing service for the Australian Open in January. Also from August, Rio Olympic Games and Paralympic Games will be held. YONEX will be the seventh consecutive official equipment supplier for badminton and the third consecutive official stringer at the Olympics and the Paralympics. YONEX looks forward to providing our best products and service for top players.
Sports are always so moving and such a pleasure. Sports provide people happier and healthier lifestyle. We will all continue to work our hardest to spread the wonderfulness of sports to more and more people in the world by providing highest quality products and brand-new values for all consumers.
In closing, I would like to wish the sports enthusiasts of the world much prosperity in 2016.
Kusaki Hayashida
President