Stan Wawrinka
(
VCORE Tour G
, 
SHT-PRO
) soared through the men's singles draw at the 2015 Rakuten Japan Open this past week, earning his fourth title this year, making the 2015 season his best so far.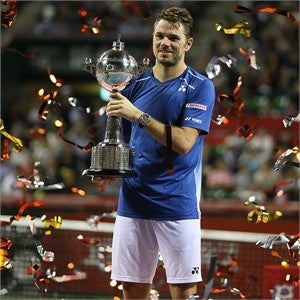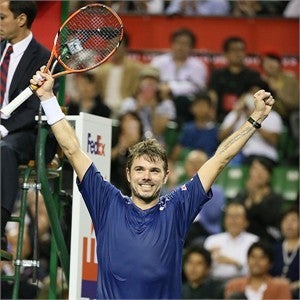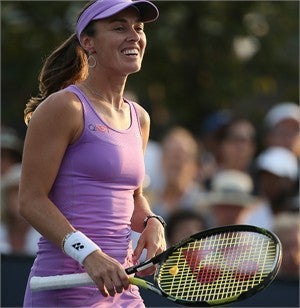 The No. 1 seed clashed with American qualifier Austin Krajicek in the quarterfinal, dominating with a strong serve that earned him nine aces en route to a 6-3, 6-4 win in under an hour. Proceeding to the semifinal, Stan The Man would face Gilles Muller for a third time, having won in the two previous outings. The match ran into a tiebreaker in the second set, but the Swiss would advance to the final after Muller sent the ball flying out on Stan's match point, the final score coming to 6-4, 7-6(5).
The final match placed the Stanimal against his good friend Benoit Paire of France. The Swiss expertly moved his opponent about the court in the first set, grabbing the opener in a brief 26 minutes. Continuing into set 2, the Swiss was not broken once. While Paire was looking to force a tiebreaker at 5-4, Stan's play remained robust, applying great amounts of pressure to take the match at 6-2, 6-4, earning him this year's Rakuten Japan Open title. This is his first time winning the tournament, and also marks the first time a Swiss has won the tournament since Roger Federer in 2006.
"Winning in Japan is important, especially with the Yonex family behind me, supporting me all throughout the week," commented the World No. 4.
Stan heads into the Shanghai Rolex Masters this week, where he is the No. 4 seed.
Hingis Continues Winning Streak
Meanwhile at the China Open, 
Martina Hingis
(
EZONE Ai 100
,
POLYTOUR PRO 125
,
SHT-PROL
) continued to dominate in the women's doubles discipline with her partner Sania Mirza. No. 1 seeds at the tournament, the pair had another whirlwind week. Continuing their winning streak, the pair earned their fourth title in a row and their eighth for the season. The two triumphed in a tense final match against sisters Hao-Ching Chan and Yung-Jan Chan, powering back after a set down. The pair earned 14 consecutive points to take the second set in under 30 minutes, and got the edge over the Taiwanese pair in the tiebreaker. The final score came to 6-7(9), 6-1, 10-8.
Tournament Results
Rakuten Japan Open
Men's Singles Final
[1]
Stan Wawrinka
(
VCORE Tour G
, 
SHT-PRO
)(SUI) def. Benoit Paire (FRA) 6-2, 6-4
China Open
Women's Doubles Final
[1]
Martina Hingis
(
EZONE Ai 100
,
POLYTOUR PRO 125
,
SHT-PROL
)(SUI)/Sania Mirza (IND) def. Hao-Ching Chan (TPE)/Yung-Jan Chan (TPE) 6-7(9), 6-1, 10-8
*Photo of Martina taken at the 2015 US Open.