Stan Wawrinka
(
VCORE Duel G 97
,
POWER CUSHION ECLIPSION
) brilliantly seized his second title of the season at this year's Dubai Duty Free Tennis Championships in a thrilling final match against 30-year-old Cypriot Marcos Baghdatis.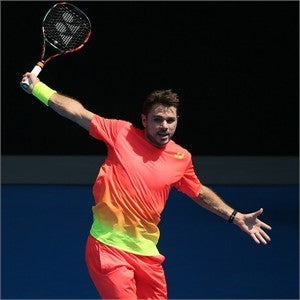 This victory brings Stan to a 9-match winning streak in finals, standing alongside athletes like Novak Djokovic and Tommy Haas. The brilliant win comes upon the Swiss World No. 4's change to the new
VCORE Duel G
racquet and 
POWER CUSHION ECLIPSION
shoes. The Stanimal's new racquet has been specifically designed to generate ferocious spin, and keeps speed and power on the ball even after the bounce. His ECLIPSION shoes provide robust support around the sides of the foot mixed with potent flex at the top for keen control on footwork. You can get the champ's thoughts on his shoes in this new video
here
, as well as an in-depth look into the ECLIPSION's technology
here
.
Despite initially being lead, set 1 saw the Swiss make a comeback, striking off two aces to eventually secure the set with a break point against the Cypriot. A neck-and-neck affair until the very end, the second set ran into an epic, nail-biting tiebreaker. With the match's final score coming to a bewildering 6-4, 7-6(13), Stan resisted five set points to clinch victory.
"I'm really happy to have another trophy. It's amazing feeling, especially that today I was playing some really good tennis. So far it's been some amazing year. I'm playing my best tennis since few years now," commented Stan the Man on the official Dubai Duty Free Tennis Championships website.
Dubai Duty Free Tennis Championships Tournament Results
Men's Singles (Final)
[2]
Stan Wawrinka
(
VCORE Duel G 97
,
POWER CUSHION ECLIPSION
)(SUI) def. Marcos Baghdatis (CYP) 6-4, 7-6 (13)