The 2016 tennis season has officially kicked off, and within just its first week the members of Team YONEX already have titles to their names.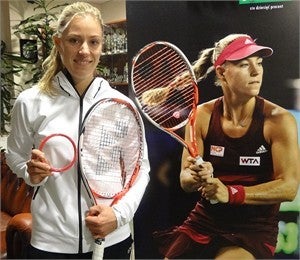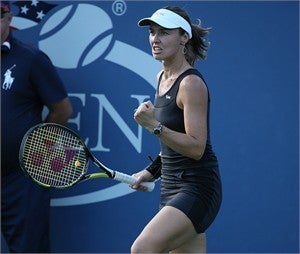 Taking to the hardcourts of the SDAT Tennis Stadium in Chennai with a brand new racquet,
Stan Wawrinka
(POWER CUSHION ECLIPSION) won his third consecutive title at the Aircel Chennai Open. This marks his fourth title in total at the tournament. The Swiss would win the title over 19-year-old Croatian
Borna Coric
(
VCORE Tour F 97
, POLYTOUR FIRE 125), who made his first appearance at an ATP tour final. After securing the first set of the final match in 40 minutes, Stan would claim a pivotal break in the second set with his trademark backhand. A game later and the title was his, claiming victory at 6-3 7-5. The Swiss World No. 4 didn't drop a single set throughout the tournament.
After an absolutely stellar season in 2015, doubles powerhouse 
Martina Hingis
(
EZONE Ai 100
,
POLYTOUR PRO 125
,
SHT-PROL
) started 2016 off with yet another title with partner Sania Mirza at the Brisbane International. Holding 26 straight match wins to their names, the pair boasts the longest doubles winning streak in 22 years. Two games down against 
Angelique Kerber
 (
VCORE Si 100
, POLYTOUR FIRE 120) and Andrea Petkovic in the final, the duo grabbed a turn-around victory in straight sets at 7-5, 6-1. German Angelique made history at the tournament, becoming the first player at the Brisbane International to reach the finals in both doubles and singles. In singles she would earn straight-set wins in the event's second round, quarterfinal and semifinal.
Both Angelique and Borna have commenced 2016 with the new POLYTOUR FIRE string. "This string gives me more touch and also good control," commented Angie after using the new string. Borna, who made it to his first ATP tour final after changing to the string, had this to say, "I like this string a lot because it has very good control and keeps the tension longer. I feel this string gives me more speed and that's why I think my service is improving."
Nick and Daria Bring Australia to Victory at the Hopman Cup
The Hopman Cup concluded on January 9
th
, with 
Nick Kyrgios
(
EZONE DR 98
,
POLYTOUR PRO 120
) and
Daria Gavrilova
(
EZONE DR 100
,
POLYTOUR PRO 125
) securing victory for Australia over Ukraine. Both players won their singles matches in straight sets, Nick recording a 6-3, 6-4 win over Alexander Dolgopolov and Daria securing a 6-4, 7-6(6) victory against Elina Svitolina.
Tournament Results
Aircel Chennai Open
Men's Singles Final
[1]
Stan Wawrinka
(New Racquets, POWER CUSHION ECLIPSION)(SUI) def. [8]
Borna Coric
(
VCORE Tour F 97
, POLYTOUR FIRE 125)(CRO) 6-3, 7-5
Brisbane International
Women's Singles Final
Victoria Azarenka (BLR) def. [4]
Angelique Kerber
 (
VCORE Si 100
, POLYTOUR FIRE 120)(GER) 6-3, 6-1
Women's Doubles Final
[1]
Martina Hingis
(
EZONE Ai 100
,
POLYTOUR PRO 125
,
SHT-PROL
)(SUI)/Sania Mirza (IND) def. [WC]
Angelique Kerber
 (
VCORE Si 100
, POLYTOUR FIRE 120)(GER)/Andrea Petkovic (GER) 7-5, 6-1
Hopman Cup
Final
Australia def. Ukraine 2-0
Nick Kyrgios
(
EZONE DR 98
,
POLYTOUR PRO 120
)(AUS) def. Alexander Dolgopolov (UKR) 6-3, 6-4
Daria Gavrilova
(
EZONE DR 100
,
POLYTOUR PRO 125
)(AUS) def. Elina Svitolina (UKR) 6-4, 7-6(6)
*Photo of Stan and Borna © Aircel Chennai Open
*Photo of Martina taken at 2015 US Open