The Yonex Cup Tennis Championship kick-started this week in Palos Verdes, CA. In its 16th year, Pedro Alipio, Tournament Director and Head Pro at the Palos Verdes Tennis Club, describes this annual event as a unique tournament because of its charm, location, and how they work hard to make every player feel special.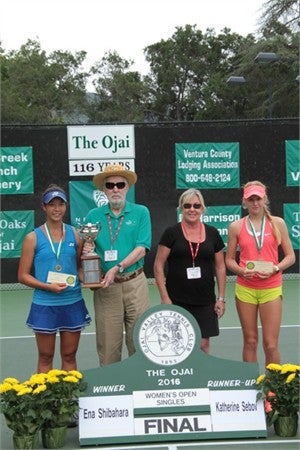 Located in a picturesque city just southwest of Los Angeles, the tournament attracts top-ranked players participating in the Open level, including Ena Shibahara (EZONE DR 100, POLYTOUR PRO 125), who is fresh off of her victory as the Women's Open Champion at last week's Ojai Tennis Tournament (pictured on the left).
With exciting matches and a special silent auction featuring items like an autographed Stan Wawrinka racquet, be sure to checkout the tournament which concludes on Sunday, May 1.
Yonex Cup Championship
April 27 - May 1, 2016
USTA Tournament Website
Palos Verdes Tennis Club
3303 Via Campesina
Palos Verdes Estates, CA 90274