With less than one week to go, the third European leg of the Legends' Vision World Tour event preparation is underway. Hosted in Denmark, the home of YONEX legend Peter Gade, it is set to be another star studded and thrilling event.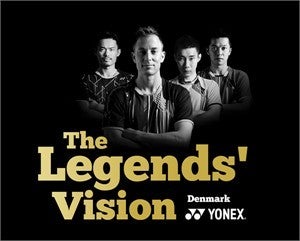 YONEX, in collaboration with Scansport A/S in Denmark are proud to welcome the four legends of badminton
Taufik Hidayat
,
Lin Dan
,
Lee Chong Wei
and
Peter Gade
in their shared goal of raising the awareness of badminton across the globe.
As part of their efforts to increase interest and awareness of the sport the four legends will be thrilling the fanatical Danish audience with a display of their phenomenal shot-making skills in a series of demonstrations. They will also be competing against two of the current Danish superstars Jan O. Jorgensen and Viktor Axelsen in a pair of very special singles matches.
To add to the excitement, the legends' will also be join current world superstars and Danish doubles' specialists Mathias Boe, Camilla Juhl and Christina Pedersen, in a truly unique and entertaining match.
The appearance of these Danish global superstars at this event further highlights the full support that the four legends have from the badminton's current players and ambassadors.
Supported by YONEX, Peter Gade, Taufik Hidayat, Lin Dan and Lee Chong Wei aim to further enrich the world through sport, providing happier and healthier lifestyles in today's aspiring badminton stars.
CEO of Scansport/YONEX Denmark, Benni Holst Andersen, commented
"it's once in a lifetime opportunity that we have to present the Legends Vision in Denmark – and we are very proud that Denmark is the only country in Europe to be chosen as host."
Supported by YONEX, Peter Gade, Taufik Hidayat, Lin Dan and Lee Chong Wei aim is to inspire the younger generation and to encourage participation in the sport of badminton by increasing the awareness and popularity of the sport across the globe.