All eyes were on Denmark on Sunday 11
th
October as the Legends' Vision World Tour continued with its third event of the year. Hosted in the home of YONEX Legend Peter Gade we saw yet another star studded and thrilling event!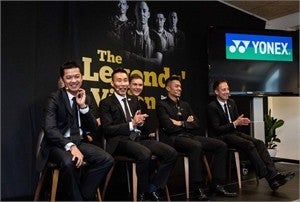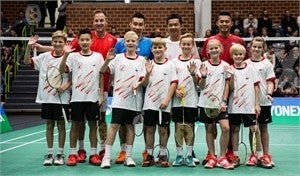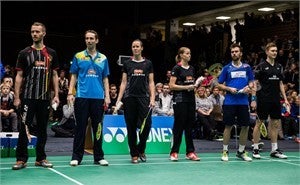 YONEX brought the four legends of badminton for the European leg of their world tour.
Peter Gade
,
Lin Dan
,
Lee Chong Wei
and 
Taufik Hidayat
thrilled the fanatical Danish audience with an unforgettable display, showcasing their astonishing shot-making skills through a series of on-court demonstrations.
Peter Gade, host of The Legends' Vision event in Denmark, commented
'To have Lin Dan, Lee Chong Wei and Taufik Hidayat here is a huge honour for me, and a huge pleasure to welcome them here in Copenhagen. We have a legacy that we would like to try and pass on to the badminton world (and possibly into new areas of the world) to try to get more young people to play badminton. That's why we're here for today's Legends' Vision event with YONEX."
Two of the upcoming Danish superstars, Jan O Jorgensen and Viktor Axelsen also stepped up to entertain the fans with their performance in a pair of memorable singles matches against the legends.
To further add to the excitement, the legends were also joined by current world superstars and Danish doubles' specialists, Mathias Boe and Carsten Mogensen, Camilla Juhl and Christina Pedersen, for a truly unique and entertaining match. The appearance of these other badminton icons at the Denmark event demonstrates the already growing support that the four legends have from badminton players across the globe.
To conclude the day's event Lee Chong Wei announced that final leg of the The Legends' Vision World Tour will be hosted in Kuala Lumpur, Malaysia by Lee Chong Wei. We all look forward to this December event where the legends will come together once more.
The aim of The Legends' Vision is to inspire the younger generation and to encourage participation in the sport of badminton by increasing the awareness and popularity of the sport across the globe. Supported by YONEX, Peter Gade, Taufik Hidayat, Lin Dan and Lee Chong Wei aim to further enrich the world through sport, providing happier and healthier lifestyles in today's aspiring badminton stars.