The latest addition to Yonex's powerful VCORE line of tennis racquets is here—the 
VCORE SV
.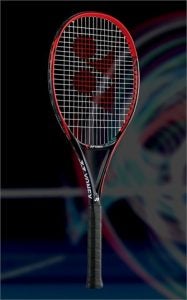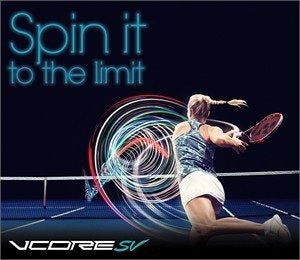 Research shows that modern-day tennis demands players dominate in long rallies from the baseline. The ability to keenly keep in control during these long rallies and break down the opponent's defense is essential to winning matches. To do so, players require consistent high trajectory and ball spin. The new VCORE SV—Spin Vortex—does exactly this. The racquet has been specifically designed to cut down on air resistance, deliver faster swings, produce powerful serves, and generate ferocious spin.
Angelique Kerber will debut her VCORE SV after fall 2016.
The VCORE SV goes on sale worldwide in early September.
New Aero Fin Technology
The VCORE SV boasts a 16% decrease in air resistance and a 2.9% increase in swing speed thanks to its 
New Aero Fin Technology
. The new technology features fins along the inner-area of the frame top and on the outer area of the frame at the 2 and 10 O'clock positions. This makes the VCORE SV exceptionally aerodynamic, especially on areas of the racquet which typically have the most air resistance. The end result is improved spin, higher trajectory and faster ball speed.
SV Frame
The VCORE SV's innovative 
SV Frame 
design allows players to get a firm grip on the ball and launch it effectively. The inside of the upper portion of the frame has been equipped with our new NANOMETRIC XT carbon. Boasting greatly increased flex over typical carbon, NANOMETRIC XT improves ball pocketing, gripping the ball for 4% longer than conventional racquets. Meanwhile, the aero shape of the racquet frame shoulder provides extra torque, improving repulsion by 2%.
This new technology is enhanced further by the huge sweet spot via the Yonex ISOMETRIC frame shape, resulting in a powerful racquet fit for today's tennis.
Spin it to the limit with VCORE SV.
VCORE SV Test Numbers
Strokes
5% increase in spin; 11% increase in trajectory height
Flat Serve

Spin Serve
2% increase in speed; 3% increase in spin
Save
Save
Save