Yonex is proud to act as the official stringer for the 2016 Rakuten Japan Open. Yonex has been providing official stringing service at the tournament since 2014, and is proud to continue doing so for a third consecutive year.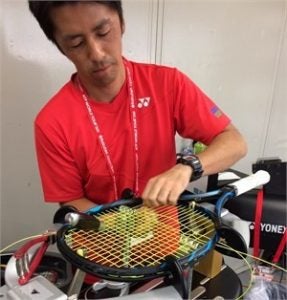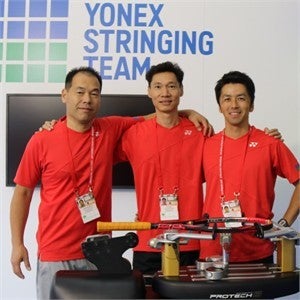 The Yonex Stringing Team is made up of top string technicians hailing from all corners of the globe. With a vast wealth of experience and high-performance Japanese-made stringing machines, the Yonex Stringing Team provides impeccable service to the world's top players.
Stringer Takashi Kawabata is part of this year's team. "Since players ask for many racquets to be strung all at once, I try my best to maintain a consistent rhythm when stringing," speaks Kawabata, "this way, I can keep the quality of the restrings uniform, even when stringing a large amount of racquets."
Kawabata is in charge of stringing for
Nick Kyrgios
at this year's tournament. "Nick uses the
POLYTOUR PRO 120
, and likes his mains and crosses at 55 pounds. As per the name, it's a 1.20 mm gauge string. He probably likes it because it puts good speed on the ball."
Yonex is honored to continue offering its high quality stringing service at the Rakuten Japan Open—the biggest international tennis tournament in Japan. Yonex is committed to contributing to the success of the tournament and the players through its stringing service.
Visit the official Yonex Stringing Team website 
here
.