Team Yonex continues to boast great performance on day 3 of the US Open.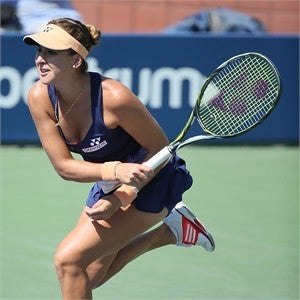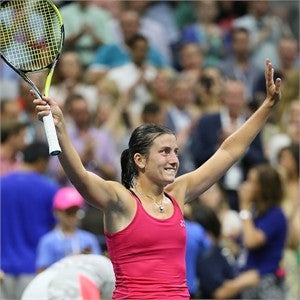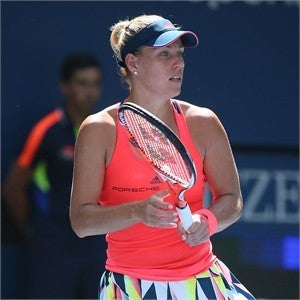 The Advance of Angie
Australian Open champ 
Angelique Kerber
 (
VCORE Si 100
,
POLYTOUR FIRE 120
) has advanced to the third round of the US Open for a sixth straight year, booking a straight-set win over Croatian Mirjana Lucic-Baroni. The World No. 2 commanded from the baseline, harnessing the power of her potent groundstrokes to quickly grab a 4-0 lead. She would finish off the opening set with a resounding ace.
The second set would see Angie's opponent ramp up the intensity, but the German remained resolute. Determined to prevent a third set, Angie saved 3 set points to win the match, 6-2, 7-6(7).
The Grand Upset
The biggest upset of the day came via 
Anastasija Sevastova
 (EZONE,
POLYTOUR PRO 125
, 
POWER CUSHION ECLIPSION L
) and her clinical takedown of No. 3 seed and 2016 Roland Garros champion Garbiñe Muguruza. After an extended period of time away from the tennis court, Anastasija impressed all the spectators in Arthur Ashe Stadium. The 26-year-old Latvian powered past her Top 5 opponent in the tight opening set, proceeding to rush to a 5-1 lead in the second set. Anastasija grabbed 7 break points en route to defeating her first Top 5 opponent at 7-5, 6-4—the biggest win of her career.
Team EZONE Excels
Members of Team EZONE have broken through into the third round with confident straight-set wins.
19-year-old 
Belinda Bencic
(
EZONE DR 100
,
POLYTOUR PRO 125
) is into her third straight US Open third round, soundly defeating German Andrea Petkovic 6-3, 6-2. Belinda came fighting right out the gates, rushing to a 3-0 lead. While her German opponent evened the score at 3-3, Belinda remained strong. Keeping pressure on her opponent, Belinda forced a number of errors, and landed winners to seal the opening set. The two would draw even early in the second set, but Belinda quickly gained control to finish the match.
Meanwhile, 
Naomi Osaka
(
EZONE DR 98
,
POLYTOUR PRO 130
/
TOUR SUPER 850
) advanced without dropping a set against China's Ying-Ying Duan. She won the first set with an ace, and persevered strongly in the second set's tiebreaker to win 6-4, 7-6(3).
Defending Champs into Round 2
Men's doubles defending champs 
Pierre-Hugues Herbert
 (
VCORE Duel G 97
,
POLYTOUR FIRE 125
) and Nicolas Mahut picked up an astounding 13 aces in their first round match against the local pair of Mackenzie McDonald and Martin Redlicki. After persevering through a tense tiebreaker in the first set, the French pair prevailed at 7-6(8), 6-1.
 US Open 2016 Tournament Results
Women's Singles (Round 2)
[2]
Angelique Kerber
 (
VCORE Si 100
,
POLYTOUR FIRE 120
)(GER) def. Mirjana Lucic-Baroni (CRO) 6-2, 7-6(7)
[24]
Belinda Bencic
(
EZONE DR 100
,
POLYTOUR PRO 125
)(SUI) def. Andrea Petkovic (GER) 6-3, 6-2
Anastasija Sevastova
(EZONE,
POLYTOUR PRO 125
, 
POWER CUSHION ECLIPSION L
)(LAT) def. [3] Garbiñe Muguruza (ESP) 7-5, 6-4
Naomi Osaka
(
EZONE DR 98
,
POLYTOUR PRO 130
/
TOUR SUPER 850
)(JPN) def. Ying-Ying Duan (CHN) 6-4, 7-6(3)
Men's Doubles (Round 1)
[1]
Pierre-Hugues Herbert
 (
VCORE Duel G 97
,
POLYTOUR FIRE 125
)(FRA)/Nicolas Mahut (FRA) def. Mackenzie McDonald (USA)/Martin Redlicki (USA) 7-6(8), 6-1
Nick Kyrgios
(
EZONE DR 98
,
POLYTOUR PRO 120
)(AUS)/ Daniel Evans (GBR) def. Daniel Nguyen (USA)/ Noah Rubin (USA) 6-3, 6-3
Women's Doubles (Round 1)
Sabine Lisicki
(
VCORE Tour F 97
, 
POLYTOUR SPIN
)(GER)/Alla Kudryavtseva (RUS) def. Varatchaya Wongteanchai (THA)/ Zhaoxuan Yang (CHN) 1-6, 6-3, 6-3
Mixed Doubles (Round 1)
Martina Hingis
(
EZONE DR 100
,
POLYTOUR PRO 125
,
POWER CUSHION ECLIPSION L
)(SUI)/
Leander Paes 
(
VCORE SV 100
, 
POLYTOUR PRO 125
,
POWER CUSHION ECLIPSION
)(IND) def. Sachia Vickery (USA)/ Frances Tiafoe (USA) 6-3, 6-2