The Yonex
N1-CB
irons and
EZONE N1-W
wedges are hand crafted in Japan to the highest of standards. Aimed at both pros and amateurs, these clubs are specifically made to improve distance and accuracy.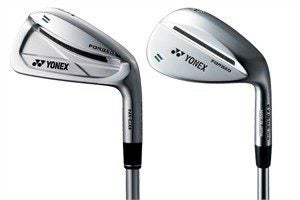 Made in our own factories under the keen watch of our workers, each and every club is crafted with the utmost of care. This past weekend saw two big wins on the Japanese tour with both of these irons and wedges, backing up the champions with their high performance.
These irons and wedges are fitted with a Graphite Hybrid Insert behind the face, improving the feeling on impact by cutting down on unwanted vibrations. They also offer a lower and deeper center of gravity, resulting in a set of clubs that are more forgiving than meets the eye. Iron shots in particular have the sharp accuracy required to get the edge over opponents, due to the meticulous engineering of our technicians.