World No. 1
Angelique Kerber
 (
VCORE Si 100
,
POLYTOUR FIRE 120
) is edging closer and closer to her first WTA Finals semifinal after scoring a brisk 82-minute 6-4, 6-2 win over Simona Halep.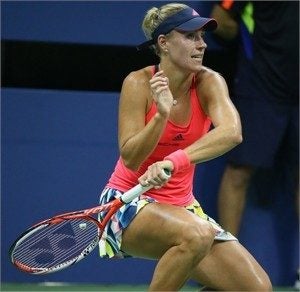 The Romanian proved a challenge in the opening set, but the German exhibited her World No. 1 prowess to great effect. Keeping calm, Angie grabbed a pivotal break point to lead 5-4, proceeding to serve out the set. Remaining clear-headed in the second, Angelique broke her opponent two more times to seal victory.
"I'm really enjoying being back here on the center court and playing my best tennis," spoke an enthusiastic Angie in the post-match interview.
Until this year's tournament, Angelique only had two match wins to her name at the WTA Finals in three appearances. But this year at World No. 1, she is poised to make it into the knockout stage. As the only undefeated player in the Red Group, the German is—in her words—most certainly playing her "best tennis."
Her final opponent in the Red Group is Madison Keys. Angelique holds a staggering 5-1 record head-to-head against the American, with consecutive wins in their last three encounters.
WTA Finals 2016 Tournament Results
Women's Singles (Round Robin)
[1]
Angelique Kerber
 (
VCORE Si 100
,
POLYTOUR FIRE 120
)(GER) def. [3] Simona Halep (ROU) 6-4, 6-2