World No. 1
Angelique Kerber
 (
VCORE Si 100
,
POLYTOUR FIRE 120
) has done it—she is into the semifinals for the first time at the WTA Finals. Standing tall at the top of the Red Group, she has only dropped one set on her quest to the knockout stage.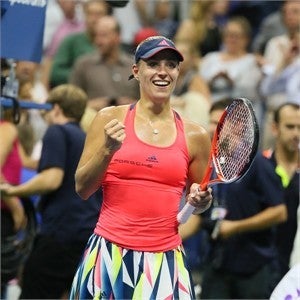 Her advance was set in stone when Simona Halep lost her match that same day, but Angie remained focused: "I knew that I'm already in the semis, but still I'm always going out there to win the match," she said in a comment on the official WTA website. Her final opponent in the Red Group was American Madison Keys, who she held a 5-1 record against.
She improved on that record 6-1, defeating the American summarily in just over an hour, 6-3, 6-3. Angie's key to victory once again lied in her calmness and resolve on the court. Despite high pressure on the part of the American in the beginning of set 2, Angie kept her cool, reeling off five games to lead 5-2, proceeding to win the match.
"Are you feeling the love here in Singapore, World No. 1?" asked the interviewer post-match. "Yes! It's just amazing," responded an enthusiastic Angie, "Being here again and playing on this court with you guys is just an incredible feeling. So good to be in the semis for the first time here!"
WTA Finals 2016 Tournament Results
Women's Singles (Round Robin)
[1]
Angelique Kerber
 (
VCORE Si 100
,
POLYTOUR FIRE 120
)(GER) def. [6] Madison Keys (USA) 6-3, 6-3