More explosive developments on semifinal day as this year's Yonex All England reaches its climax.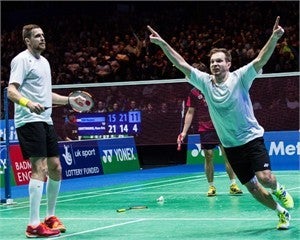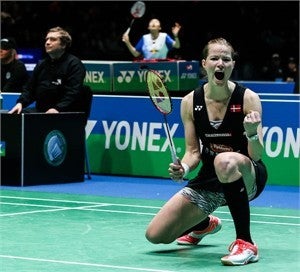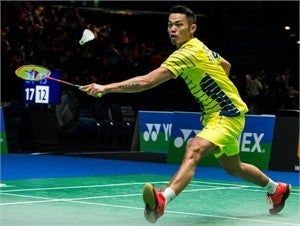 All hail the return of Super Dan to England? Lin Dan (VOLTRIC Z-FORCE II LD, SHBSC6LDEX) is one step closer to his sixth Yonex All England title, defeating fellow Chinese and young giant killer Xue Song, who downed Chen Long in round 2. Lin Dan came out a game down after a close opener, but seized the reigns as of the second. Rather than a show of intense force and power, Lin Dan focused on outsmarting his teammate with careful and tricky plays. The more-experienced Lin Dan gradually broke down the youngster, expertly manipulating extended rallies, leading Song into errors. The match went to Lin Dan when Song smacked the shuttle into the net, the final score coming to 18-21 21-15 21-9.
Mixed doubles would see the Danish pair of Christinna Pedersen (NANORAY 800, POWER CUSHION 02 LADIES) and Joachim Fischer Nielsen face off against local favorites Chris Adcock (VOLTRIC Z-FORCE Ⅱ, POWER CUSHION AERUS MENS) and Gabrielle Adcock (VOLTRIC Z-FORCE Ⅱ, POWER CUSHION AERUS LADIES), the match proving to be a contest of sheer power. Both pairs struck hard, forcing the others into errors, but it was the Danish pair that secured the upper hand, confidently winning game 1. The Adcocks struck back in the second game, firing off power shot after power shot to break their opponents' composure. The turnaround came in the face of the Adcock's game point, where the Danish pair brilliantly secured 7 consecutive points to advance into the final at 21-13 22-20.
Russian doubles powerhouses Vladimir Ivanov (DUORA 10, POWER CUSHION COMFORT TOUR) and Ivan Sozonov (VOLTRIC 80 E-tune, Yonex Shoes) remain unstoppable, defeating No. 1 seeds Lee Yong Dae and Yoo Yeon Seong. The match was stage to many explosive exchanges, which would see the Russians come out on top as they gradually increased the pressure on their opponents. They sealed match point with a pinpoint hit right into the middle of the court, and their advance to their first All England final was confirmed when the Koreans sent the shuttle into the net. The final score came to 14-21 21-17 21-15.
Yonex All England Open Badminton Championships Superseries Premier Results 
Men's Singles (Semifinal)
[5]Lin Dan (VOLTRIC Z-FORCE II LD, SHBSC6LDEX)CHN) def. Xue Song (CHN) 18-21 21-15 21-9
Women's Singles (Semifinal)
[8] Nozomi Okuhara (JPN) def. [1] Carolina Marin (NANORAY Z-SPEED, POWER CUSHION 02 LADIES)(ESP) 11-21 21-16 21-14 
Men's Doubles (Semifinal)
[6] Hiroyuki Endo (DUORA 10)/Kenichi Hayakawa (JPN) def. Goh V Shem/Tan Wee Kiong (MAS) 21-13 21-15
Vladimir Ivanov (DUORA 10, POWER CUSHION COMFORT TOUR)/Ivan Sozonov (VOLTRIC 80 E-tune, Yonex Shoes)(RUS) def. [1] Lee Yong Dae/Yoo Yeon Seong (KOR) 14-21 21-17 21-15
Women's Doubles (Semifinal)
[3] Ayaka Takahashi (VOLTRIC 80 E-tune)/Misaki Matsutomo (JPN) def. [1] Luo Ying/Luo Yu (CHN) 21-12 21-9
[6] Tang Yuanting/Yu Yang (CHN) def. [4] Kamilla Rytter Juhl (NANORAY 900, Yonex Shoes)/Christinna Pedersen (NANORAY 800, POWER CUSHION 02 LADIES)(DEN) 21-19 9-21 21-14
Mixed Doubles (Semifinal)
[5] Christinna Pedersen (NANORAY 800, POWER CUSHION 02 LADIES)/Joachim Fischer Nielsen (DEN) def. [7] Chris Adcock (VOLTRIC Z-FORCE Ⅱ, POWER CUSHION AERUS MENS)/Gabrielle Adcock (VOLTRIC Z-FORCE Ⅱ, POWER CUSHION AERUS LADIES)(ENG) 21-13 22-20
[8] Praveen Jordan (VOLTRIC 80 E-tune, POWER CUSHION 02 LTD)/Debby Susanto (NANOSPEED 9900, Yonex Shoes)(INA) def. [1] Zhang Nan/Zhao Yunlei (CHN) 21-19 21-16