The YONEX Denmark Open concluded on October 18th, with 2014 World Championships bronze medalist
Tommy Sugiarto
(
VOLTRIC 80 E-tune
,
SHB02LTD
) placing as this year's finalist.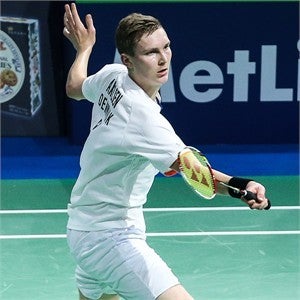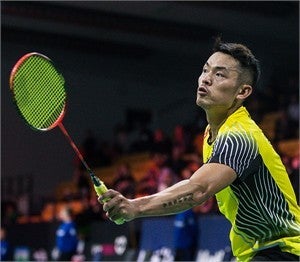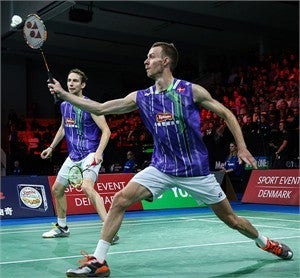 The un-seeded Indonesian made it past several strong opponents on his way to the final round. The quarterfinal saw him go up against No. 2 seed
Jan O. Jorgensen
 (
VOLTRIC 80 E-tune
, SHBSC6iEX), in an encounter which Tommy would grasp by a thin margin at 21-19, 21-19. He went on to face Taiwan's 
Chou Tien Chen
(VOLTRIC Z-FORCE,
SHB02LTD
) in the semifinal, seizing a strong advantage in the opener, grabbing seven consecutive points mid-game. The second act proved to be a tighter affair, with Chou tying Tommy at 20-20 in a bid to force a decider. Tommy had other plans; grabbing point 21 with dynamic smash, finishing with a lightning-fast return that fell out of Chou's reach for point 22. The match closed at 21-8 22-20.
Young local star 
Viktor Axelsen
 (
ARCSABER 11
, 
SHB-87EX
) placed as a semifinalist, making it past 
Lin Dan
 (
VOLTRIC Z-FORCE Ⅱ LD
, 
SHBSC6LDEX
) with an astounding two-game victory at 21-8, 21-7 in the quarterfinal. He proceeded to face Chen Long in the semifinal, where he put up a strong fight against the No. 1 seed. The Dane started out strong, forcing the Chinese World No. 1 into several errors to clutch the opening game. Local doubles stars 
Mathias Boe
 (
DUORA 10
, SHBSC6iEX) and 
Carsten Mogensen
 (
DUORA 10
, 
SHB87LTD
) also placed as semifinalists, grabbing a victory over China's Chai Biao and Hong Wei in a tense quarterfinal. The match went in the way of the Danes, with Carsten smashing the shuttle brilliantly into the back corner of the opponents' court, closing the match at 23-21 23-21.
The ranks of Team Yonex now make their way to this year's Yonex French Open, which commences on October 20th.
2015 Yonex Denmark Open Results
Men's Singles Final
[1] Chen Long (CHN) def.
Tommy Sugiarto
(
VOLTRIC 80 E-tune
,
SHB02LTD
)(INA)  21-12 21-12