The 2016 Yonex Denmark Open got underway on October 18th, with the mixed doubles main draw getting off to a heated start.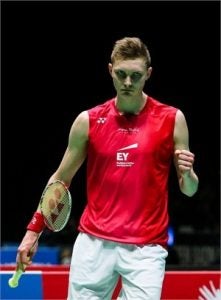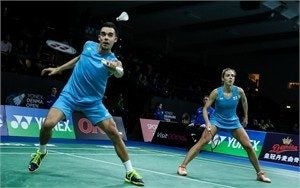 European Players Prevail
Chris Adcock
 (
VOLTRIC Z-FORCE Ⅱ
,
POWER CUSHION AERUS MENS
) and
Gabrielle Adcock
(
VOLTRIC Z-FORCE Ⅱ
,
POWER CUSHION 02 Ladies
) went face to face with the Polish pair of Robert Mateusiak and Nadiezda Zieba. The tense first round would see the duos draw even at a game each, but the husband and wife team made a spirited comeback. Chris and Gabby seized strong control over the final game, at one point leading 14-4. Maintaining an unbroken lead, the pair triumphed 21-14 10-21 21-12.
Meanwhile, 2016 European Championships gold medalists and local favorites 
Christinna Pedersen
(
DUORA 7
, 
POWER CUSHION 02 LTD
) and Joachim Fischer Nielsen powered past the Indian pair of Pranaav Jerry Chopra and Reddy N. Sikki. The Danish pair only required 36 minutes to dominate with a final score of 21-15 21-14.
Looking Towards Day 2
The second day of the tournament sees more of the world's top players take to the court in a number of tantalizing matchups. Coming off of his sixth YONEX OPEN JAPAN title,
Lee Chong Wei
 (
DUORA 10 LCW
, Yonex Shoes) will face off against Wei Nan. Meanwhile, hometown favorites 
Viktor Axelsen
 (
ARCSABER 11
,
POWER CUSHION 65
) and 
Jan O. Jorgensen
 (
VOLTRIC 80 E-tune
,
POWER CUSHION COMFORT TOUR
) will compete as the No. 2 and No. 3 seeds respectively, and are sure to please their local fans.
Viktor will be competing armed with the new
AEROBITE
—a unique hybrid-combo string set, featuring mains and crosses at different gauges. This unique string pattern applies heavy spin for decisive cut smashes as well as a solid touch on hairpins, sending the shuttle straight down into the opposing court.
"AEROBITE not only gives me good accuracy but I also find that my power in my smashes increases," spoke Viktor, praising his new string. "Red and white are also the colors of the Danish flag. So I really enjoy the colors," he continued, showing his national pride.
Yonex Denmark Open 2016 Tournament Results
Mixed Doubles (Round 1)
[3]
Praveen Jordan
 (
VOLTRIC Z-FORCE Ⅱ
,
POWER CUSHION 65
)/
Debby Susanto
 (NANOSPEED 9900,
POWER CUSHION 65
)(INA) def. Nico Ruponen/Amanda Hogstrom (SWE) 21-14 21-19
[4]
Chris Adcock
 (
VOLTRIC Z-FORCE Ⅱ
,
POWER CUSHION AERUS MENS
)/
Gabrielle Adcock
(
VOLTRIC Z-FORCE Ⅱ
,
POWER CUSHION 02 Ladies
)(ENG) def. Robert Mateusiak/Nadiezda Zieba (POL) 21-14 10-21 21-12
[5] Joachim Fischer Nielsen/
Christinna Pedersen
(
DUORA 7
, 
POWER CUSHION 02 LTD
)(DEN) def. Pranaav Jerry Chopra/Reddy N. Sikki (IND) 21-15 21-14