The Yonex Denmark Open concluded on October 23
rd
with strong showings from Japan in both women's singles and doubles, while local favorites impressed in front of their home crowd in mixed doubles.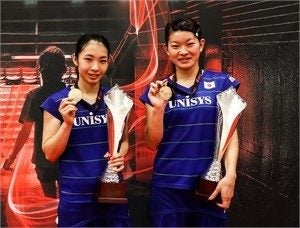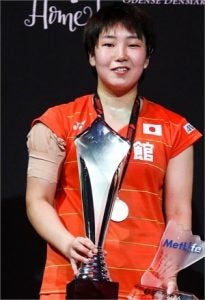 Big Wins for the Japanese
Akane Yamaguchi
 earned her third Superseries title in women's singles with a cool and composed victory over Tai Tzu Ying. No. 8 seed at the tournament, Akane dropped the first game to No. 5 seed Tai after a tight exchange of points. The 19-year-old was unfazed however, maintaining impressive poise in the face of her opponent to expertly seal the remaining two games. With impressive navigation of the court and a knack for forcing her opponents into errors, Akane was crowned the 2016 Yonex Denmark Open champion with a final score of 19-21 21-14 21-12.
"There are players who are higher than me in the rankings and more experienced than me, I want to improve and keep getting good results and move up the rankings," said Akane in a comment from the official BWF website.
In women's doubles, World No. 1 pair
Ayaka Takahashi
 and Misaki Matsutomo added yet another Superseries title to their growing list, defeating Korean No. 2 seeds Jung Kyung Eun and Shin Seung Chan. The Japanese pair dropped the opening game, but found their rhythm in game 2 and onwards to prevail 19-21 21-11 21-16. They made it through the tournament with straight wins from the first round through to the semifinal.
Local Favorites Prevail Before Cheering Crowd
Mixed doubles saw local favorites
Christinna Pedersen
 (
DUORA 7
, 
POWER CUSHION 02 LTD
) and Joachim Fischer Nielsen win their first title on home soil in five years. The experienced pair triumphed over spirited Chinese newcomers Zheng Siwei and Chen Qingche in an intense matchup. Despite being lead 20-18 in the pivotal second game, the Danish pair put heavy pressure on their less-experienced opponents, picking up four straight points to win 21-16 22-20.
Thai pair of
Bodin Isara
(
DUORA 10
, 
POWER CUSHION 65
) and
Nipitphon Phuangphuapet
(
NANORAY Z-SPEED
,
POWER CUSHION SC5 MEN
) reached their first Superseries final together in men's doubles, defeating two seeded opponents en route. They were named the finalists after a close match against Malaysians V Shem Goh and Wee Kiong Tan.
Yonex Denmark Open 2016 Tournament Results
Women's Singles  (Final)
[8]
Akane Yamaguchi
 (JPN) def. [5] Tai Tzu Ying (TPE) 19-21 21-14 21-12
Men's Doubles (Final)
[5] V Shem Goh/Wee Kiong Tan def.
Bodin Isara
(
DUORA 10
, 
POWER CUSHION 65
)/
Nipitphon Phuangphuapet
(
NANORAY Z-SPEED
,
POWER CUSHION SC5 MEN
)(THA) 14-21 22-20 21-19
Women's Doubles (Final)
[1]
Ayaka Takahashi
/Misaki Matsutomo (JPN) def. [2] Jung Kyung Eun/Shin Seung Chan 19-21 21-11 21-16
Mixed Doubles (Final)
[5] Joachim Fischer Nielsen/
Christinna Pedersen
 (
DUORA 7
, 
POWER CUSHION 02 LTD
)(DEN) def. [8] Zheng Siwei/Chen Qingche (CHN) 21-16 22-20