Team Yonex Juniors dominated at this past week's USTA International Spring Championship in Carson, CA (March 28 - April 3, 2016). Equipped with their Yonex racquets where the weapon of choice was the EZONE DR, two young athletes earned championship titles, as well as extremely strong performances from other members of this exciting group of athletes.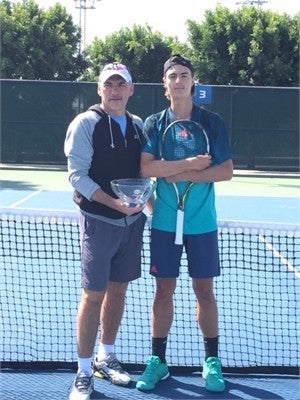 Be sure to keep your eyes on them at the prestigious Easter Bowl!
Axel Nefve (EZONE DR 98, POLYTOUR 130; pictured right) secured the Boys' 16 Singles title, while Ena Shibahara (EZONE DR 100, POLYTOUR 125) won the Girls' 18 Doubles division with her partner Hurricane Tyra Black.
With a big forehand and attacking game, Meible Chi (EZONE DR 100) advanced to the Girls' 18 Singles semifinals, where she lost a challenging match to Kayla Day, who marched forward as this year's champion.
Semifinal appearance
Dalayna Hewitt (EZONE DR 100) Girls' 18 Doubles with Kariann Pierre-Louis
Quarterfinal appearance
Alana Smith (VCORE TOUR F, POLYTOUR FIRE 125) Girls' 18 Doubles with Kate Paulus