The 2015 edition of YONEX OPEN JAPAN came to a thrilling conclusion on September 13
th
with the world's best giving their all for the coveted title on the courts of the Tokyo Metropolitan Gymnasium.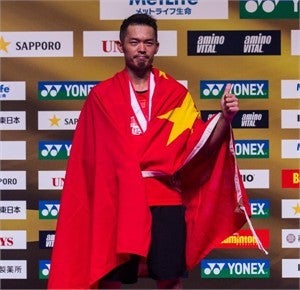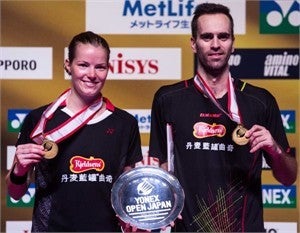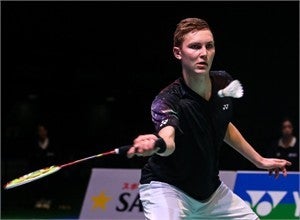 The highlight of the day was no doubt the men's singles final between 
Viktor Axelsen
 (
ARCSABER 11
, 
SHB-87EX
) and
Lin Dan
 (
VOLTRIC Z-FORCE Ⅱ LD
, 
SHBSC6LDEX
). The opening game went to Lin Dan by a slight margin, followed by Viktor gaining the advantage in the second. The third game saw Viktor rush to an 11-3 lead, but Lin Dan gradually closed in to level the score. Both players boasted sharp, powerful and clever plays, taking advantage of long rallies to catch the other by surprise, with quick and piercing shots both close to and far from the net. Either side was also adept at pressuring the other into errors.
In the end, it was Lin Dan who emerged as the champion. After closing the gap between him and the 21-year-old Dane, the two exchanged several tense points, leaving spectators on the edge of their seats. Lin Dan edged out two points from 19-19 to close the match at 21-19 16-21 21-19. This marks Lin Dan's first Superseries title for the season.
Christinna Pedersen
(
NANORAY 800
, 
SHB-02LX
) and Joachim Fischer Nielsen have dethroned Zhang Nan and Zhao Yunlei as the defending YONEX OPEN JAPAN mixed doubles champions. The Danish duo put a stop to the Chinese pair's three year reign across a nearly 80-minute full match. Coming back from a game down, the Danish duo secured the lead early on, and was not matched once. The third game once again saw the Danes leading, but the Chinese pair came back strong near the end, the match concluding with a heated struggle for the coveted match point. Christinna/Joachim pressured their opponents with rapid-fire shots and swift footwork that eventually got the best of Zhang/Zhao to close out at 17-21 21-18 23-21.
Akane Yamaguchi
(
VOLTRIC 70 E-tune
) placed at this year's YONEX OPEN JAPAN women's singles finalist. The 18-year-old shuttler made it past opponents Li Xuerui and Wang Shixian en route to the final, showing that she has what it takes to overtake some of the world's best. In women's doubles,
Kamilla Rytter Juhl
(
NANORAY 900
,
SHB87LTD
)/Christinna Pedersen also placed as finalists, winning every match until the final in straight games.
YONEX OPEN JAPAN 2015 Results: Final
Men's Singles
[5] 
Lin Dan
 (
VOLTRIC Z-FORCE Ⅱ LD
, 
SHBSC6LDEX
)(CHN) def. [7]
Viktor Axelsen
 (
ARCSABER 11
, 
SHB-87EX
)(DEN) 21-19 16-21 21-19
Women's Singles
Nozomi Okuhara (JPN) def.
Akane Yamaguchi
(
VOLTRIC 70 E-tune
)(JPN) 21-18 21-12
Women's Doubles
[8] Zhao Yunlei/Zhong Qianxin  (CHN) def. [4]
Kamilla Rytter Juhl
(
NANORAY 900
,
SHB87LTD
)/
Christinna Pedersen
(
NANORAY 800
, 
SHB-02LX
)(DEN) 21-12 21-16
Mixed Doubles
[5]
Christinna Pedersen
(
NANORAY 800
, 
SHB-02LX
)/Joachim Fischer Nielsen (DEN) def. [1] Zhang Nan/Zhao Yunlei (CHN) 17-21 21-18 23-21