The 2015 YONEX-Sunrise Hong Kong Open came to a thrilling conclusion on November 22nd, with YONEX badminton powerhouses 
Lee Chong Wei
 (
DUORA 10
, 
SHB02LTD
) and 
Carolina Marin
 (
NANORAY Z-SPEED
, 
SHB-02LX
) crowned as this year's champs.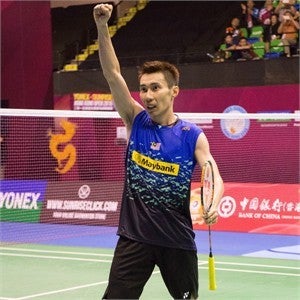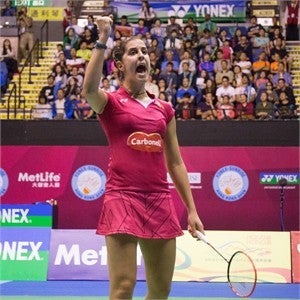 Defeating tough opponents such as Cheng Long,
Tommy Sugiarto
(
VOLTRIC 80 E-tune
) and 
Marc Zwiebler
(
ARCSABER 11
, 
SHB-87EX
) en route, Chong Wei grabbed his third consecutive Superseries title after the YONEX French Open and the recent Chinese open with a solid straight-game win over young Chinese Tian Houwei. The Dato' expertly controlled the rhythm of rallies, forcing his opponent into a number of errors. Chong Wei also made keen judgment calls, and of course exhibited his trademark brand of high, focused power. The match was won with a well-placed shot in the back corner of the court, the final score coming to 21-16 21-15. Malaysian fans held up their country's flag in celebration as their national hero made the winning shot.
Carolina got the edge over Japanese Nozomi Okuhara in an extended, nearly 90-minute affair. Game 1 saw the Spaniard not led even once to take the opener by a slight margin, but game 2 would see the Japanese even the score. Okuhara would lead in decider's opening half, but Carolina came firing back with the brand of explosive power that defines her game. On Carolina's championship point, Okuhara sent the shuttle flying into the net, and the Spanish World Champion falling to the court mat with a giant smile on her face. The final score came to 21-17 18-21 22-20.
Mathias Boe
 (
DUORA 10
, SHBSC6iEX)/
Carsten Mogensen
 (
DUORA 10
, 
SHB87LTD
) placed as finalists after a tense meeting with Koreans Lee Yong Dae and Yoo Yeon Seong. The previous match put them against Indonesian doubles experts and fellow Team YONEX players  
Mohammad Ahsan
 (
NANORAY 900
, SHB-75EX) and
Hendra Setiawan
 (
NANORAY 900
, SHB-75EX). It was a seesaw match, but the Danes came out on top at 14-21 21-12 21-16.
2015 YONEX-SUNRISE Hong Kong Open Results
Men's Singles Final
Lee Chong Wei
 (
DUORA 10
, 
SHB02LTD
)(MAS) def. Tian Houwei (CHN) 21-16 21-15
Women's Singles Final
[1]
Carolina Marin
 (
NANORAY Z-SPEED
, 
SHB-02LX
)(ESP) def. Nozomi Okuhara (JPN) 21-17 18-21 22-20
Men's Doubles Final
[1] Lee Yong Dae/Yoo Yeon Seong (KOR) def. [3] 
Mathias Boe
 (
DUORA 10
, SHBSC6iEX)/
Carsten Mogensen
 (
DUORA 10
, 
SHB87LTD
) 21-7 18-21 21-18