Between October 31st and November 6th, YONEX held a number of PLAY+STAY tennis clinics in Mumbai, India. The clinics were run at the request of the nation's tennis association, and called upon the talents of renowned Japanese pro coach Katsunori Kamiya. The clinics drew around 300 participants including beginners, up-and-coming juniors and local coaches. Held with the objective of expanding the popularity of tennis within India, the clinics taught how to master tennis skills in a fun and exciting way.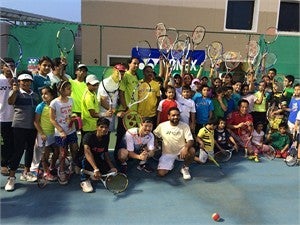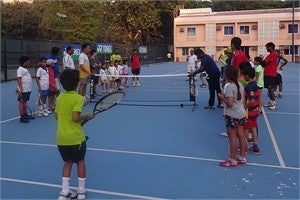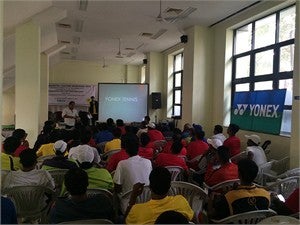 PLAY+STAY is a program put forward by the International Tennis Federation (ITF) with the objective of promoting tennis to novices and children, teaching them how to play tennis while also having fun. Court sizes, racquet sizes and ball softness vary with respect to participants' ages and skills, allowing them to pick up the sport easily, and enjoy themselves during rallies and games.
The program breaks down the sport to its core elements, teaching children how to handle the ball, swing, and hit rallies. As participants step up, they are given a chance to test their skills at the end in a number of fun mini games.
"In the end, we were able to put on some very fun events." commented coach Kamiya. As per his comments, all participants left with huge smiles on their faces.
Coach Kamiya also ran a seminar for local coaches, while also instructing special lessons aimed at junior players. In the end, all participants emerged extremely satisfied, and were able to have an enjoyable tennis experience.
India has seen many talented players through the years, and is now seeing the emergence of new local talent making waves on the global stage. YONEX will continue its efforts to spread the joy of tennis in India and across the globe with more exciting events like these.
To encourage younger athletes to get into tennis, YONEX has a full range of junior racquets which can be found
here
. Furthermore, our MUSCLE POWER 40, 30 and 20 balls are made to be used with the PLAY+STAY program, and are suited for a variety of skill levels.