Launching in January 2017.
Yonex redefines the standard of on-court performance and comfort with its new badminton shoe:
AERUS 2
.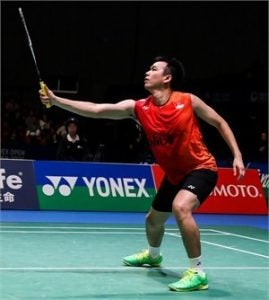 The new AERUS 2 is Yonex's lightest badminton shoe to date. Its light weight combined with superior ventilation and solid fit makes it perfect for the quick and complex movements unique to badminton.
The shoe's upper is made with the Yonex DURABLE SKIN LIGHT material, providing rubber-like flexibility mixed with the stiffness of hard plastic, letting players move freely while maintaining a robust fit. Additionally, the shoe features nearly double the amount of see-through mesh compared to the previous model, providing increased ventilation for superior on-court comfort.
Ultra-light weight. Superior ventilation. Solid fit. Experience next-level of performance and comfort with the AERUS 2.
Team Yonex Weigh in on AERUS 2
Team Yonex badminton players took to Tokyo's courts in the new AERUS 2 at this year's YONEX OPEN JAPAN.
"The new shoe feels good!" praised Indonesian doubles player
Hendra Setiawan
, "The balance between flex and stiffness is very good, especially compared to the original. It's also is super light, and easy to move around in."
Along with Hendra, other big names who have started using the new shoe include
Chris Adcock
 and
Marc Zwiebler
. All three started using the AERUS 2 immediately after just one test-run.
Product Info