The BWF (Badminton World Federation) awarded Marcus Gideon and Kevin Sukamuljo (Indonesia) to receive "the Player of the Year" honors as the duo that put forth the best performance in 2017, and gave Yuki Fukushima and Sayaka Hirota (Japan) a special award for "Most Improved Players of the Year."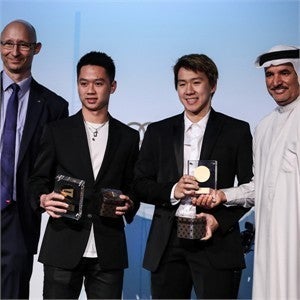 This year, their first year as part of Team Yonex, Gideon and Kevin won an astounding six Superseries titles, starting with the Yonex All England Open Badminton Championships in March. This is the most titles won in a year by any male doubles team, matching the record of Lee Yong Dae and Yoo Yeon Seong (Korea) from 2015. The pair has become a leading force in men's doubles, both in name and in reality.
Fukushima and Hirota had looks of disbelief on their faces when they were called up at the award ceremony. They finished in second place at the World Championships and won the title of champion at the India Open Superseries Premiere for the first time. They currently rank fifth in the world, the highest they've been in their career. This year marked a great leap in standing for them.
Read the BWF article here