TOKYO, Japan – Yonex Co., LTD is proud to announce the upcoming release of the new POWER CUSHION AERUS Z badminton shoes. The AERUS series are a lightweight series aimed at providing agile footwork for all players who like to stay light and on their toes.
The new AERUS Z is the lightest ever badminton shoes from Yonex, weighing in at just 250 grams per shoe*. These shoes are slimmed down by adopting a new sole made of Feather Bounce FOAM, a material that is 8% lighter in weight, while generating more repulsion than the previous AERUS models. With a new seamless upper design, the Durable Skin Light and Double Raschel Mesh bring less weight with better fit, flexibility and breathability.
With the POWER CUSHION+ and Power Graphite Drive, the AERUS Z is not only light, but also converts the impact of each step into repulsion and power for the next.
The new AERUS Z is accompanied by an affordable model called the AERUS X. The POWER CUSHION AERUS X is designed as a comfortable lightweight model built with limited features those of which include the seamless upper design, POWER CUSHION and more.
The two new AERUS models are set to release early December.
*Measured with industry standard 26 cm shoe.
INNOVATION
POWER CUSHION+
The AERUS Z features a specially shaped wedge of POWER CUSHION+ in the heel designed specifically to absorb shock associated with the footwork of badminton. By improving shock absorption, our POWER CUSHION+ technology transforms impact into energy. A 28%* increase in shock absorption and a 62%** increase in repulsion when compared to the standard EVA materials.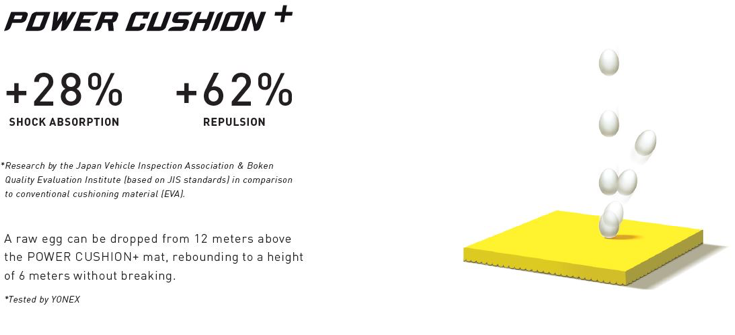 *Measured by the Japan Vehicle Inspection Association
**According to research by the Boken Quality Evaluation Institute, JIS Law is applied

Power Graphite Drive
The sole of the AERUS Z is built with Power Graphite Drive, a carbon sheet that prevents twisting of the foot and improves stability during the most strenuous of movements. Working together with POWER CUSHION +, the absorbed impact power is converted into a propulsive force to help propel you into your next step.
Feather Bounce FOAM
A lightweight, high repulsion material built to support agile, fast-paced footwork. The Feather Bounce FOAM is 8% lighter in weight, while generating 20% more repulsion than the previous AERUS models.

*Tested by Yonex
Seamless Upper Design
The upper is built with a single primary piece which is a combination of the Durable Skin Light, a strong and lightweight material, and the Double Raschel Mesh, a highly breathable fabric. The two materials are fused together using a vacuum-pressing method which enables the upper to be built with less material.
PRODUCT SUMMARY