March 14
th
-18
th
, Birmingham, England hosts the YONEX All England Open (Super 1000). This year marks the 108
th
 edition of the All England, making it the longest running tournament among Badminton's global contests. Top international players will be competing this year wearing new Yonex apparel, equipped with 
VERYCOOL DRY
 and VERYCOOL technology.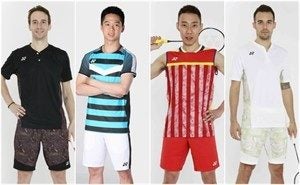 Last year, Lee Chong Wei (Malaysia) won his fourth All England championship, while Marcus Gideon and Kevin Sukamuljo (IDN) in doubles, went home with their first. At this year's competition Gideon and Kevin, who've continued to dominate the field at a seemingly unshakeable world No. 1 ranking, will seek to add to their current string of victories while brandishing their new weapons of choice, the ASTROX 88 D and 88 S. Veterans Mathias Boe and Carsten Mogensen (DEN), who won at the YONEX Swiss Open and who will also be using the new ASTROX 88, will have their chance to fight for the title. In men's singles, as Lee Chong Wei, Lin Dan (CHN) and Srikanth Kidambi (IND) are all among the contenders for the championship, we can expect an outstanding level of play.
While the women's side also promises to be a pitched battle, second seed Akane Yamaguchi (JPN) is a strong candidate for the championship. In women's doubles, Shiho Tanaka and Koharu Yonemoto (JPN), who commanded the "Super Series Finals 2017" are on the top of the list for Japanese athletes expected to reach the podium.
This year, to acknowledge 35 years of Yonex providing hand-crafted shuttlecocks for the tournament, the shuttles will feature a special, BWF-recognized logo. In addition to supporting play with unwaveringly top quality shuttlecocks, the Yonex Stringing Team will also be there, as always providing world-class support.