With the number of restrung racquets clocking in at over 5,100, the Yonex Stringing Team continues its hard work through the second half of this year's Australian Open. Among the team's members is another veteran of the stringing world: Richard Parnell.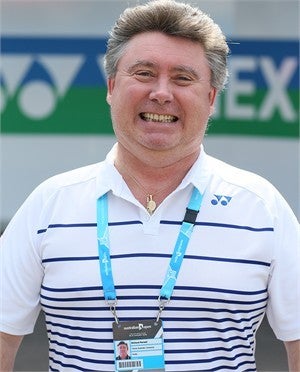 Currently residing in Málaga, Spain, Richard originally hails from the United Kingdom. He learned the art of stringing from none other than his father at the young age of 9 years old.
In 1989, he embarked upon his career as a full-fledged stringer. His experience is storied, with experience stringing on the ATP and WTA tours, as well as for the Davis Cup. He strings at Wimbledon every year, and has been doing so for the past 15 years. 2016 marks his first year stringing at the Australian Open.
Richard is most well-known for a revolutionary stringing knot of his invention—the Parnell Knot. Regarded for its sublime simplicity, it is the most-used knot on the tour. The knot was first filmed at Wimbledon 2003, where it would gradually gain great recognition across the world.
"This is an amazing team," Richard said in praise of his fellow teammates. "To string such a large amount of racquets with a team of this size means these stringers are very, very good. Everyone's work is of extremely high quality."
With the expertise and experience Richard brings to the table, the Yonex Stringing Team will continue to provide excellent service as the tournament enters its final rounds.
Find more information about the Yonex Stringing Team at its official
website
.