Nanjing, China ― Team Yonex dominated this year's TOTAL BWF World Championships. Three players captured the gold medal, and three other players were finalist.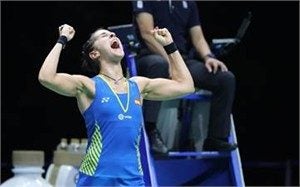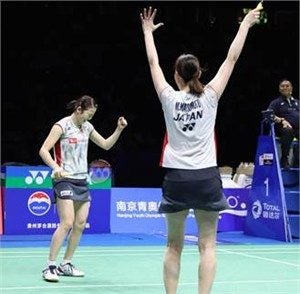 After breezing past Daren Liew of Malaysia in the semifinals (21-16, 21-5), Kento Momota faced world No. 3 Shi Yuqi of China in the final match, where he stuck to his game and controlled the match, keeping his opponent guessing and prevailing comfortably 21-11, 21-13 in 49 minutes. Momota became the first Japanese player to win a men's singles title at the World Championships, adding another highlight in his dramatic comeback story.
Earlier in the day, Carolina Marin (ESP) also made history as she became the first player to win three women's singles World Championships. Marin is also experiencing something of a return to form, and she looked powerful and driven throughout the tournament. In the semifinals, where she dropped the first game to China's He Bingjiao, she gathered herself and rallied to win 13-21, 21-16, 21-13, and book her spot to the finals. In a rematch of the 2016 Olympic Games final, she faced Pusarla V. Sindhu, who was fresh off an upset of world No. 2 Akane Yamaguchi. Although Sindhu jumped out to a 14-9 lead, Marin was able to rally back and win the first game. After 46 minutes, Marin had recaptured her World Championships title, 21-19, 21-10.
The most dramatic match of the day was undoubtedly the women's doubles final. Yuki Fukushima and Sayaka Hirota had proven to be unstoppable throughout the tournament until the finals where they met Mayu Matsumoto and Wakana Nagahara, who were playing in their first World Championships. After Hirota and Fukushima took the first game, 21-19, Matsumoto and Nagahara answered with an identical 21-19 win of the second game. It was a remarkable battle of will, and even after being down 18-13 in the final game, Matsumoto and Nagahara slowly chipped away at their opponents' lead. They eventually overcame two match points to claim victory at 22-20 in the final game and both sides collapsed in tears, one in joy, one in despair and disbelief.
Kento Momota: ASTROX 99, AEROBITE, POWER CUSHION 65 Z MEN
Carolina Marin: DUORA Z-STRIKE, AERUS 3
Mayu Matsumoto: DUORA 10, NANOGY 98, POWER CUSHION 65 Z LADIES
Wakana Nagahara: ASTROX 88 S, AEROBITE, POWER CUSHION 65 Z LADIES
For full match details, go here.