In Women's Singles, Caroline Garcia of France captured her first title of the season and the biggest ever in her career after defeating Ashleigh Barty of Australia in the finals. The big win is her first with Team Yonex and will project her to World No. 15.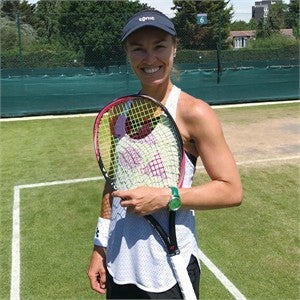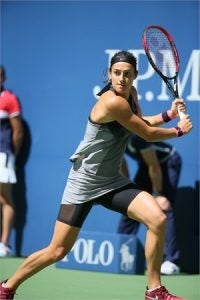 *Photo taken at 2017 US Open
Martina Hingis and her partner Chan Yung-Jan claimed their 8th title of the season at the Wuhan Open, stretching their current win streak to 14. The 63rd career win in doubles came on the Swiss' 37th birthday with a special added bonus of World No.1. Martina loves playing with her new EZONE LITE, commenting that her play "can be more aggressive during my serve and volley points."
*Photo taken at 2017 Wimbledon
WTA DONGFENG MOTOR WUHAN OPEN (China)
Women's Singles
Caroline Garcia (VCORE SV 100, Yonex Poly String) (FRA)
6-7(3), 7-6(4), 6-2
Ashleigh Barty (AUS)
Women's Doubles
Martina Hingis (EZONE Lite, POLYTOUR FIRE 125 / POLYTOUR PRO 125, POWER CUSHION ECLIPSION L) (SUI) / Yung-Jan Chan (TPE) [1]
7-6(4), 3-6, 10-4
Shuko Aoyama (JPN) / Zhaoxuan Yang (CHN)
Tournament official site: 
http://en.wuhanopen.org/
WTA TASHKENT OPEN (Uzbekistan)
Held from September 25th to 30th, the Tashkent Open, saw the VCORE clash in the finals between fellow VCORE SV players, Andrea Hlavackovaand Nao Hibino.  The win would go to the Czech doubles specialist in a tight 2 set final.
Women's Doubles
Andrea Hlavackova (VCORE SV 100, POLYTOUR PRO 125) (CZE) / Timea Babos (HUN) [1]
7-5, 6-4
Nao Hibino (VCORE SV 100, POLYTOUR PRO 125, POWER CUSHION ECLIPSION L) (JPN) / Oksana Klasinikova (GEO) [2]
Tournament official site: http://www.tashkentopen.uz/en/