The finals of the YONEX German Open (Super 300/Mülheim) took place on the 11th, where Chou Tien Chen of Chinese Taipei won the men's singles title, and the Japanese contingent of Akane Yamaguchi, Takuto Inoue and Yuki Kaneko, and Yuki Fukushima and Sayaka Hirota — all using ASTROX series racquets — took the podium in women's singles, men's doubles and women's doubles, respectively.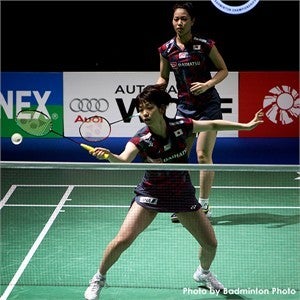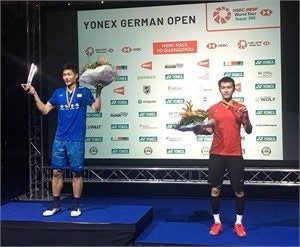 With the success of Yamaguchi, who uses the ASTROX 77, and of Fukushima, Hirota, Inoue, and Kaneko, who began using the new ASTROX 88 S and 88 D at this tournament, three out of the five events were won by players using ASTROX! Fukushima and Hirota defeated the runners up of the YONEX Swiss Open in straight sets in their semifinal matchup, on their way to winning their second consecutive title. Inoue and Kaneko showcased their offensive play in the finals to achieve a come-from-behind victory. Their delight was apparent at having won their first title since last year's victory at the US Open.
In men's singles, Tien Chen (CHN) defeated Ng Ka Long Angus (CHN) in a faceoff of players using DUORA racquets. This was also Ka Long's first second-place finish since he adopted the newly released DUORA 8 XP. Both players will try to carry the momentum from their strong finish into this week's YONEX All England championships.

Chou Tien Chen (CHN): DUORA Z-STRIKE, BG80, POWER CUSHION 65 Z WIDE
Ng Ka Long Angus(CHN): DUORA 8 XP, BG80, POWER CUSHION AERUS2 MEN
Akane Yamaguchi (JPN): ASTROX 77, BG66UM, POWER CUSHION 65 Z LADIES
Takuto Inoue (JPN): ASTROX 88 S, BG80
Yuki Kaneko (JPN): ASTROX 88 D, BG80P
Yuki Fukushima (JPN): ASTROX 88 D, BG80, POWER CUSHION AERUS2 LADIES
Sayaka Hirota (JPN): ASTROX 88 S, NBG95