Yonex will serve as the Official Stringer of the Australian Open (January 15 – 28, 2018), one of the four Grand Slam tennis tournaments for the third consecutive year.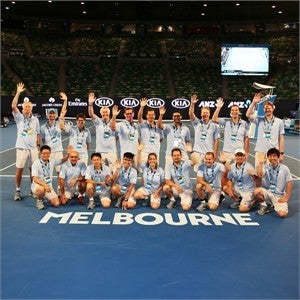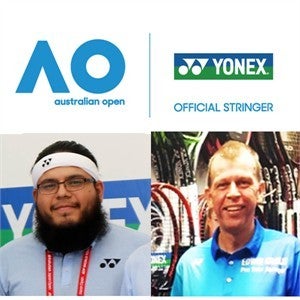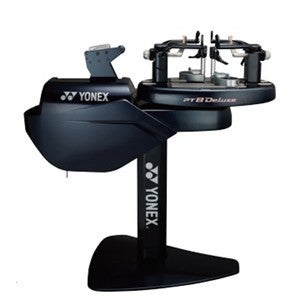 With extensive knowledge and experience from supporting major sporting events such as various ATP and WTA tournaments, as well as the Beijing, London, and Rio de Janeiro Olympics. This year's Australian Open Yonex Stringing Team is an international squad of 25 individuals from 16 different countries who are trusted to support top athletes' needs on one of tennis's biggest stages. They are expected to precisely perform over 5,000 restrings from the qualifiers through to the tournament's final round using the Yonex
PT8Deluxe
, a state-of-the-art electronic stringing machine manufactured in Japan.
Yonex is extremely honored to be chosen as the Official Stringer once again, and strives to continue its record-breaking performance and high-quality stringing service for the world's top players. Be sure to follow the team's journey and efforts down under in January, and stop by the Yonex Stringing Room located next to Rod Laver Arena in Garden Square, as well as the Yonex String Performance Challenge, an interactive stringing challenge for fans located in front of Hi-Sense Arena in the Tokyo area of the Grand Slam Oval.
Overview of Yonex Stringing Team
With honed skills and robust knowhow, the Yonex Stringing Team is an international team of experts dedicated to providing the world standard of racquet stringing. The team is supported by an arsenal of high-quality, made-in-Japan stringing machines that assist in precision stringing. Harnessing their meticulous technique and cutting-edge equipment, the Yonex Stringing Team travels the world, offering their services at a number of tennis, badminton and soft tennis tournaments. With over 1500 members worldwide, it is the largest stringing team in racquet sports.
Two enthusiastic stringers join for their first Australian Open
■Dimas Mendez(Puerto Rico)
Joining the team and being chosen as a stringer for the Australian Open is like a dream come true. I'm especially happy to be the first Puerto Rican on the team. I hope to have an amazing experience with this wonderful team and learn all that I can!
■Edwin Gruijs(Holland)
When the call came telling me that I had been chosen for the Australian Open, I was so happy that I couldn't think straight for an hour! I am extremely proud to be able to serve world-class athletes as a member of the Yonex Stringing Team.
Overview of PT8Deluxe
Yonex PT8Deluxe stringing machine is a state-of-the-art electronic stringing machine, manufactured in Japan. Used exclusively by the Yonex International Stringing Team and trusted by tournament professionals, it delivers world class reliability and performance. With functions such as a solid 6 point mounting system, detailed tension selection option, and lightweight non-slip aluminium clamps, this machine can be relied upon for accurate stringing operations. The machine usability is supported by features such as a touch screen, multiple tension activation switches, and adjustable turntable for comfortable stringing conditions.
Price: Wholesale Price
Country of origin: Japan
Learn more about the Yonex Stringing Team at the official website: 
http://www.yonex.com/stringingteam/